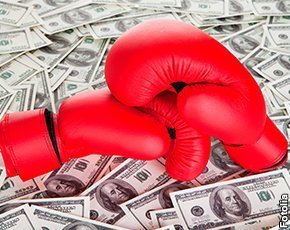 Conventional wisdom has Google and AWS locked in the Price War of the Titans with the launch of GCE, but a deeper look reveals a different truth.

MORE HIGHLIGHTS

Platform as a Service vendors continue to evolve offerings to keep up with customer needs. Which provider is the right fit for your organization?

Cloud computing purists say true clouds require portals for self-service, but those who've actually deployed portals are in the minority.

With Google IaaS entering the fray, cloud vendors may need to cut prices further to compete. Is this price war good for the consumer?

Like us on Facebook to stay up-to-date on the latest cloud news and tips from the expert editors at SearchCloudComputing!
Email Alerts
Register now to receive SearchCloudComputing.com-related news, tips and more, delivered to your inbox.
By submitting you agree to receive email from TechTarget and its partners. If you reside outside of the United States, you consent to having your personal data transferred to and processed in the United States.
Privacy
Cloud Computing Weekly Podcast
Traditional IT managers are hungry for control, but as public cloud benefits trump even private clouds, enterprises must learn to let go of responsibility.
E-Zine

A few big server hardware vendors once ruled enterprise IT. But with virtualization, cloud computing and the rise of commodity hardware, do HP, IBM and Dell still have the same clout?

15 minutes in cloud

As the Anything as a Service market shifts to a more industry-focused approach, will it lure enterprise IT?
LinkedIn

Stay connected with your peers on LinkedIn and Twitter and get expert analysis on the most recent developments in the cloud trend and upcoming events so that you can cut through the hype and achieve a realistic understanding of the cloud.

Follow us on Twitter!