Q
Manage
Learn to apply best practices and optimize your operations.
How do OpenStack Neutron, Dragonflow enable SDN?
As the OpenStack community continues to advance its software-defined networking capabilities, what role will the Neutron and Dragonflow components play?
The networking features within the OpenStack cloud platform continue to evolve rapidly.
Continue Reading This Article
Enjoy this article as well as all of our content, including E-Guides, news, tips and more.
By submitting your personal information, you agree that TechTarget and its partners may contact you regarding relevant content, products and special offers.
You also agree that your personal information may be transferred and processed in the United States, and that you have read and agree to the Terms of Use and the Privacy Policy.
New switch and service options surface regularly, and OpenStack Neutron, the platform's core networking component, continues to evolve toward a more standard, interchangeable model. For admins, this simplifies more advanced network operations, such as service chaining.
OpenStack Neutron uses network functions virtualization (NFV) and creates layers of network abstraction above the physical network. Protocols are attachable via overlay networking, a method of encapsulating protocols. While the overlay approach uses considerable compute power, it creates high levels of flexibility.
Because Neutron uses a network node that becomes a bottleneck at scale, the open source community introduced the Dragonflow submodule, a software-defined networking (SDN) controller, to act as a distributed virtual router for OpenStack clusters. Dragonflow has a small effect on OpenStack Neutron code but improves scalability and speed and simplifies management. It has an elastic architecture that reacts to virtual LANs in a cluster scaling up or down.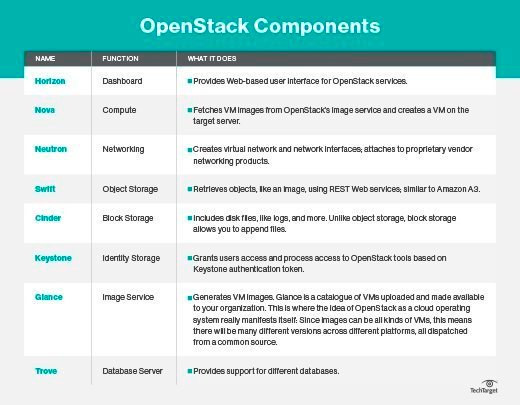 Dragonflow links to Kuryr, one of the OpenStack container subprojects, to bring SDN to the OpenStack containers environment. From a features perspective, Dragonflow supports L2/L3, Dynamic Host Configuration Protocol (DHCP), security groups and other advanced features.
Beyond OpenStack Neutron itself, there are numerous SDN and NFV initiatives in the open source community. OpenDaylight is an open source Linux Foundation effort to create a standard industry platform for SDN. Still in its early days, the OpenDaylight NetVirt module uses OpenStack Neutron's APIs and supports modular subservices, including L2, L3 DHCP IPv6 and others.
Dig Deeper on Open source cloud computing
PRO+
Content
Find more PRO+ content and other member only offers, here.
When you hold on to old data, cloud storage costs can become increasingly steep. Learn to let go with a formal policy for cloud data purges.continue reading
Replacing all your HDDs with SSDs won't solve the storage issues associated with in-memory databases. Look to hyper-convergence and NVDIMMs instead.continue reading
Storage snapshots act almost like a rewind feature for admins, enabling them to roll back to uncorrupted versions of data. Unfortunately, they aren't...continue reading
Have a question for an expert?
Please add a title for your question
Get answers from a TechTarget expert on whatever's puzzling you.