News
Stay informed about the latest enterprise technology news and product updates.
Will Verizon-CloudSwitch still support AWS?
Verizon's acquisition of cloud computing software company, CloudSwitch, is a smart move by the telecom giant as enterprises look for hybrid cloud offerings, but will it continue the startup's support of other clouds besides Verizon's, and for how long?
CloudSwitch's software lets users move applications, or workloads, between company data centers and the cloud without changing the application or the infrastructure layer. This notion of hybrid cloud, or connecting on premises IT with public cloud services, turns out to be the preferred approach for most companies considering cloud computing.

Download this free guide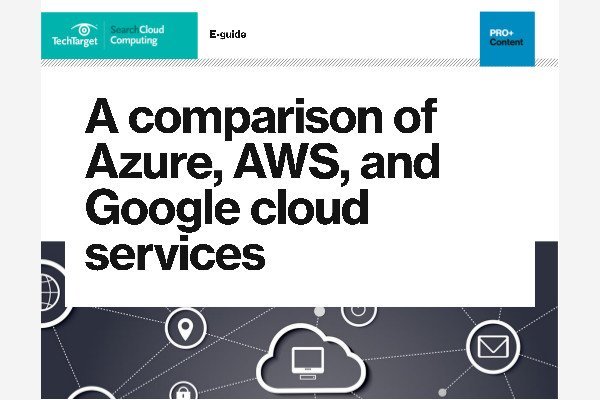 Download: Compare the cloud services of Azure, AWS, and Google
These three vendors offer services ranging from big data in the cloud to serverless computing and more. Read on for a vendor-neutral comparison by our experts.
By submitting your personal information, you agree that TechTarget and its partners may contact you regarding relevant content, products and special offers.
You also agree that your personal information may be transferred and processed in the United States, and that you have read and agree to the Terms of Use and the Privacy Policy.
CloudSwitch has proven its software is an enabler of this model and has a dozen or so large enterprises, including Novartis and Biogen, using its product to move workloads to the cloud and back in-house, if necessary.
But a key selling point to CloudSwitch has been its multi-cloud, multi-hypervisor strategy and many users have downloaded its software to test Amazon Web Services.

Verizon has been pretty gentle so far with its acquistion of Terremark, which is acquired for over a billion dollars last year, but will that extend to a small software acquistion?
"We will remain open and support multiple clouds," said Ellen Rubin, founder and VP of products at CloudSwitch. "It's resting on our relationships with Terremark … they told us not once but a dozen times that they want us to stay open."
On the surface it's a little weird to see Verizon buying a software company, but the cloud is all about developing APIs that let users request services, so it makes sense at high level. The CloudSwitch product will be part of Verizon's Terremark division, under Kerry Bailey, group president of Terremark Worldwide.