Cloud Foundry is an open source cloud platform as a service (PaaS) on which developers can build, deploy, run and scale applications on public and private cloud models. VMware originally created Cloud Foundry and it is now part of Pivotal Software.

Download this free guide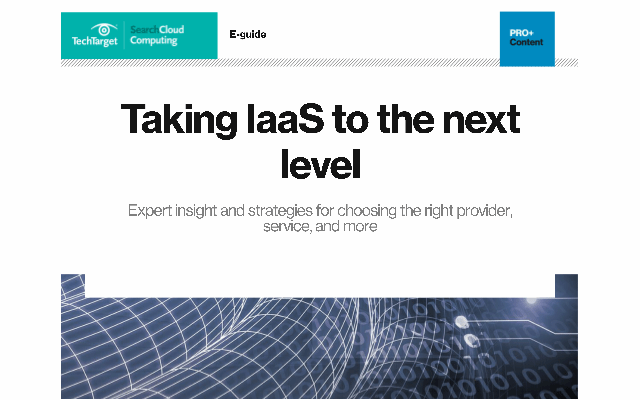 Take Infrastructure as a Service to the next level
Access this 16-page report to explore all of the imperative strategies, tools, and techniques you need in order to choose the right providers and services for your IaaS and PaaS offerings
By submitting your personal information, you agree that TechTarget and its partners may contact you regarding relevant content, products and special offers.
You also agree that your personal information may be transferred and processed in the United States, and that you have read and agree to the Terms of Use and the Privacy Policy.
Cloud Foundry is licensed under Apache 2.0 and supports Java, Node.js, Go, PHP, Python and Ruby. The open source PaaS is highly customizable, allowing developers to code in multiple languages and frameworks. This eliminates the potential for vendor lock-in, which is a common concern with PaaS.
Developers choose Cloud Foundry for its free, open source nature and for the ability to use their own tools and code. Similar platforms and competitors to Cloud Foundry include OpenShift, Google App Engine and Heroku.
For infrastructure management, Cloud Foundry uses BOSH, an open source tool for deployment and lifecycle management.
In February 2014, Pivotal, EMC, IBM, Rackspace and VMware formed the Cloud Foundry Foundation, which currently has more than30 members. The independent non-profit foundation has an open governance policy that allows any organization to contribute.
The Cloud Foundry Foundation's goal is to use the innovations of the community to create an agile platform for cloud-native applications and software.
Cloud Foundry Foundation members include:
Accenture
ActiveState
Alpine Data Labs
Altoros
Anchora
anynines
AppDynamics
Azul Systems
Blue Box
BNY Mellon
Canonical
Canopy
Capgemini
CloudCredo
EMC
Ericsson
GE
jFrog
NTT
Piston Cloud Computing
Pivotal
Rackspace
Redis Labs
Stark & Wayne
Telus
Verizon
Continue Reading About Cloud Foundry
Dig Deeper on Platform as a Service and cloud computing
PRO+
Content
Find more PRO+ content and other member only offers, here.