CloudAV
CloudAV is a program that combines multiple antivirus applications and scans user files over a network of servers. The program was developed at the University of Michigan.
Looking for something else?
CloudAV is a program that provides antivirus protection as an Internet service. CloudAV allows the user to take advantage of multiple antivirus programs without running them locally so the user's computer performance is not affected. The program uses a technique called N-version protection to identify malicious software by using multiple, heterogeneous antivirus detection engines in parallel. CloudAV was developed at the University of Michigan.
What's in Your Cloud?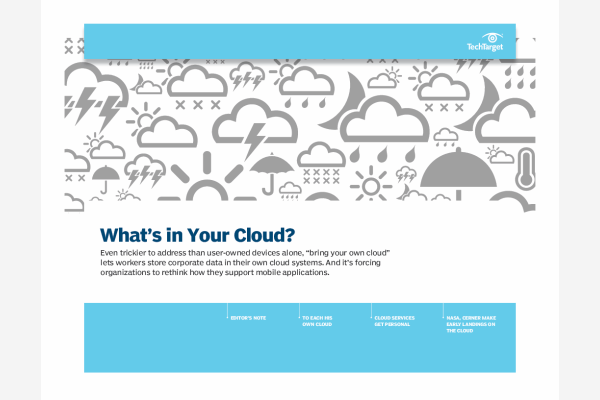 Keeping up with all those user owned devices—and devising policies to govern them and keep company data secure—can throw organizations for a loop. How has your company been handling the new trend?
By submitting your personal information, you agree to receive emails regarding relevant products and special offers from TechTarget and its partners. You also agree that your personal information may be transferred and processed in the United States, and that you have read and agree to the Terms of Use and the Privacy Policy.

Individual antivirus programs catch some bad files that others miss and miss some that others catch. CloudAV scans files as they are received and notifies users of risks before suspect files are opened. A mechanism called "retrospective detection" scans file access history whenever a new threat is discovered to quickly detect previously unidentified infections. Researchers said they were able to detect 88 percent of recent viruses and 98 percent of all malware.
A number of security companies, including Trend Micro, are exploring cloud-based approaches to antivirus protection. As of October 2008, CloudAV is in use on the University of Michigan campus but has not been deployed elsewhere, although other universities and some enterprises have expressed interest. Before CloudAV can be rolled out on a larger scale, licensing and privacy issues need to be addressed.
Learn More About IT:
> For SearchSecurity.com, Marcia Savage reports on CloudAV.
> Kate Greene writes about 'Moving Security to the Cloud.'
> Brian Jackson explains how 'CloudAV could supercharge anti-virus security.'
> Seth Fogie expresses his concerns about Cloud AV.
> Kelly Fiveash interviews Eva Chen, CEO of Trend Micro, about the company's cloud AV product.
PRO+
Content
Find more PRO+ content and other member only offers, here.