Cloudyn is a software as a service (SaaS) provider that offers cloud management and monitoring tools for various cloud computing environments.
With Cloudyn, businesses can gain visibility into their cloud deployments through a number of graphical reports and customizable dashboards. Using these tools, organizations can track cloud performance metrics, such as instance runtime or spikes in cloud usage. Cloudyn also offers cloud management features for specific cloud provider platforms. Microsoft Azure users, for instance, can use Cloudyn tools to size their Azure virtual machines for the highest performance-to-price ratio.

Download this free guide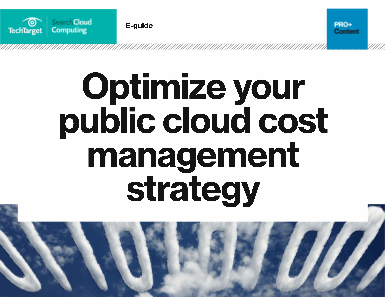 Download: Optimize your public cloud cost management strategy
Don't pay more than you have to in public cloud. Review these tools and techniques to keep costs down and stay within budget.
By submitting your personal information, you agree that TechTarget and its partners may contact you regarding relevant content, products and special offers.
You also agree that your personal information may be transferred and processed in the United States, and that you have read and agree to the Terms of Use and the Privacy Policy.
Cloudyn's SaaS tools help users monitor and optimize cloud computing costs. For example, Cloudyn provides a dashboard that lets organizations track cloud costs by department, business unit or region. Cloudyn also offers analytics, governance and optimization technologies for multi-cloud deployments.
Cloud management, in general, refers to the administrative control an organization exercises over its public, private and hybrid clouds. Cloud management platforms like Cloudyn help administrators create and track cloud instances, monitor cloud usage and optimize cloud costs.
Cloudyn supports major cloud computing vendors and platforms, including Microsoft Azure, Amazon Web Services, Google Cloud Platform and OpenStack. The company's three advanced products include:
Cloudyn Enterprise Edition is a tool that provides visibility into cloud usage and costs, both enterprise-wide or at the user- or resource-level. Aimed at IT and finance managers, Cloudyn Enterprise Edition also provides cost allocation reports and an optimization engine that helps businesses ensure a cost-efficient cloud deployment. It supports major public cloud platforms, as well as OpenStack private clouds.
Cloudyn Managed Service Provider (MSP) Edition is designed for cloud service brokers or cloud-focused MSPs, who use the tool to monitor internal and customer cloud environments. In addition to offering capabilities for customer management, cost allocation and invoicing, Cloudyn MSP Edition helps MSPs and cloud brokers adjust service pricing for increased profit margin.
Cloudyn Cost Allocation 360° helps IT and finance managers track and allocate cloud costs. The tool also includes Cloudyn's Tag Manager, which helps businesses consistently tag or categorize cloud resources.
Cloudyn is one of several vendors offering cloud management tools, with other providers including VMware, RightScale, Dell and Scalr.
Cloudyn was founded in 2011 by Sharon Wagner, Dr. Boris Goldberg and Vittaly Tavor. The privately held company has headquarters in Rosh Ha'Ayin, Israel.
Continue Reading About Cloudyn
PRO+
Content
Find more PRO+ content and other member only offers, here.