CoreOS Linux is an open source operating system (OS) that provides the functionality required to deploy and manage applications within software containers. Based on the Linux kernel, CoreOS is well-suited for server and clustered computing, a method that links several computers together so they operate as a single system.

Download this free guide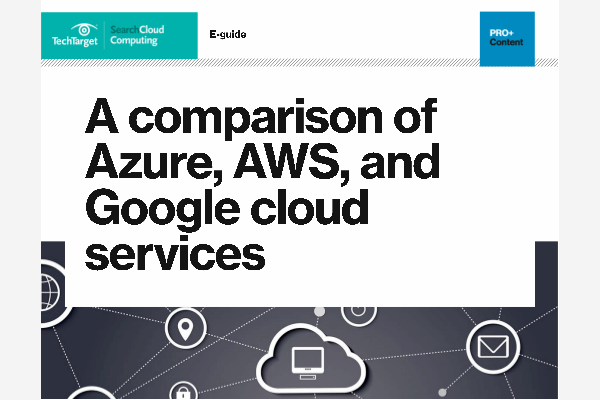 Download: Compare the cloud services of Azure, AWS, and Google
These three vendors offer services ranging from big data in the cloud to serverless computing and more. Read on for a vendor-neutral comparison by our experts.
By submitting your personal information, you agree that TechTarget and its partners may contact you regarding relevant content, products and special offers.
You also agree that your personal information may be transferred and processed in the United States, and that you have read and agree to the Terms of Use and the Privacy Policy.
Clustered computing enables a group of hardware servers to work cooperatively within the data center. CoreOS deploys additional containers into other cluster nodes to distribute workloads, allowing for improved performance and failover protection. CoreOS is also lightweight, meaning it uses minimal computing resources to perform tasks.
CoreOS plays an important role in cloud software development and deployment. A software developer or administrator can use the OS locally from magnetic or solid-state media, or booted from a network through a pre-boot execution environment (PXE). IT staff also can run the OS in a public cloud instance, such those from Amazon Elastic Compute Cloud, Microsoft Azure or Google Compute Engine, as well as on platforms like OpenStack.
CoreOS works with x86 and x64 processors and uses the "etcd" daemon, which is installed across all servers in the cluster, to provide a common registry for cluster nodes to share configuration data. The etcd daemon also provides service discovery capabilities, which gives an administrator visibility into applications. CoreOS also uses "fleet" services to control cluster node initialization and etcd deployment. Fleet services can run single or multiple containers across the cluster, and can handle tasks such as creating container dependencies or groups, container migration to specific cluster nodes and container failover. CoreOS uses "systemd" – another central daemon in the CoreOS package -- for initialization and process management.
Because an organization primarily uses CoreOS in combination with software containers, the OS supports Docker as the abstraction layer. CoreOS also supports Rocket, a container virtualization engine and competitor to Docker. The commercial enterprise version of CoreOS, called Tectonic, uses Google Kubernetes for container orchestration.
For security purposes, CoreOS uses isolated user space instances based on the Linux kernel's control groups, or "cgroups," function, rather than using hypervisors and creating full virtual machines. This offers namespace isolation and manages resource usage, such as processor, memory and disk I/O, for every process. Consequently, CoreOS can create independent and reasonably secure instances that share the underlying Linux kernel, while each container performs as a separate Linux machine.
Continue Reading About CoreOS Linux
Dig Deeper on Cloud development and testing
PRO+
Content
Find more PRO+ content and other member only offers, here.