IBM Bluemix is a cloud application platform as a service (PaaS). Developers use the service, which runs on IBM's SoftLayer cloud infrastructure, to create, deploy and manage mobile and web applications on both public and private clouds. The IBM Bluemix platform is built on Cloud Foundry, an open source PaaS.

Download this free guide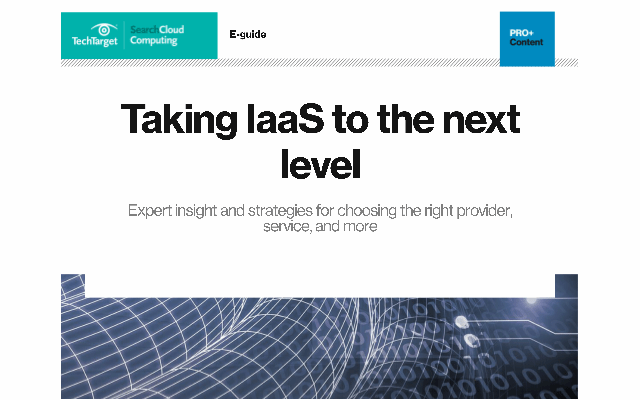 Take Infrastructure as a Service to the next level
Access this 16-page report to explore all of the imperative strategies, tools, and techniques you need in order to choose the right providers and services for your IaaS and PaaS offerings
By submitting your personal information, you agree that TechTarget and its partners may contact you regarding relevant content, products and special offers.
You also agree that your personal information may be transferred and processed in the United States, and that you have read and agree to the Terms of Use and the Privacy Policy.
IBM Bluemix supports various programming languages, such as Java, Node.js, PHP and Python and can be extended to support other languages. The Bluemix platform also includes middleware services, and automatically provisions new instances of those services. Developers can also scale their applications in Bluemix as workload demands change.
Bluemix provides access to other IBM cloud tools and services, such as those for data analytics and security. Developers can also use the IBM Bluemix Catalog to access services for the internet of things, IBM Watson and more.
IT teams can deploy Bluemix applications on different compute models, including IBM virtual servers and IBM containers. IBM offers three deployment models for Bluemix:
Public: A public cloud environment in which applications can access over 100 pre-built services from both IBM and third-party vendors. Developers can choose to deploy their applications in one or multiple Bluemix geographical regions. Deploying applications in multiple regions can help reduce latency and ensure availability; if one Bluemix region goes down, applications can continue to run in other regions.
Dedicated: A single-tenant, private cloud environment available in over 25 IBM data centers across the globe. Developers connect to the environment using a direct network connection or virtual private network (VPN), and IBM manages the platform.
IBM Bluemix Local: An IBM Bluemix instance that an organization deploys in its own data center, behind a firewall.
The cost of IBM Bluemix varies depending on resources used, runtime, support and other factors. Organizations can estimate their costs using the IBM Bluemix cost calculator.
Continue Reading About IBM Bluemix
Dig Deeper on Platform as a Service and cloud computing
PRO+
Content
Find more PRO+ content and other member only offers, here.