IBM Bluemix is a cloud computing platform from IBM that offers both platform as a service (PaaS) and infrastructure as a service (IaaS).
With Bluemix IaaS, organizations can deploy and access virtualized IT resources -- such as compute power, storage and networking -- over the internet. For compute, organizations can choose between bare-metal or virtual servers.

Download this free guide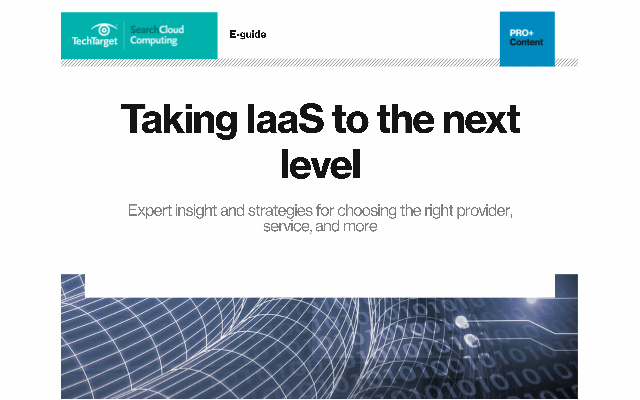 Take Infrastructure as a Service to the next level
Access this 16-page report to explore all of the imperative strategies, tools, and techniques you need in order to choose the right providers and services for your IaaS and PaaS offerings
By submitting your personal information, you agree that TechTarget and its partners may contact you regarding relevant content, products and special offers.
You also agree that your personal information may be transferred and processed in the United States, and that you have read and agree to the Terms of Use and the Privacy Policy.
With Bluemix PaaS -- which is based on the open source cloud platform Cloud Foundry -- developers can use IBM services to create, manage, run and deploy various types of applications for the public cloud, as well as for local or on-premises environments. IBM Bluemix supports various programming languages, such as Java, Node.js, PHP and Python and can be extended to support other languages.
IBM Bluemix deployment models
IBM offers three deployment models for IBM Bluemix:
Public: A public cloud environment in which applications can access over 100 prebuilt services from both IBM and third-party vendors. Developers can choose to deploy their applications in one or multiple IBM Bluemix geographical regions. Deploying applications in multiple regions can help reduce latency and ensure availability; if one IBM Bluemix region goes down, applications can continue to run in other regions.
Dedicated: A single-tenant, private cloud environment available in over 25 IBM data centers across the globe. Developers connect to the environment using a direct network connection or virtual private network (VPN), and IBM manages the platform.
IBM Bluemix Local: An IBM Bluemix instance that an organization deploys in its own data center behind a firewall.
IBM Bluemix services
IBM Bluemix cloud platform supports access to other IBM cloud tools and services -- including IBM Watson and Bluemix OpenWhisk, IBM's serverless computing platform -- as well as those from third-party vendors. The IBM Bluemix Catalog lists over 120 services, which are broken up into 10 categories:
Data and analytics -- Includes Apache Spark, IBM Watson Machine Learning and streaming analytics for data services;
IBM Watson -- Services to build cognitive applications;
Internet of things (IoT) -- Includes IBM's IoT Platform, which provides services for connecting and managing IoT devices, and analyzing the data they produce;
Application program interfaces (APIs) -- Services to build, manage and run APIs;
Network -- Allows enterprises to manage their cloud networking infrastructure, and supports a VPN connection for container services;
Storage -- Provides object storage for cloud data;
Security -- Includes activity tracking, identity and access management and single sign-on;
DevOps -- Offers services for continuous delivery, alerts and notifications, and application performance monitoring;
Application Services -- Services to build web and mobile apps, including IBM Blockchain, Cloud Automation Manager and IBM Message Hub; and
Integrate -- Services to integrate and cloud and on-premises systems, or various applications, such as API Connect, App Connect and IBM Secure Gateway.
IBM Bluemix pricing
The cost of IBM Bluemix cloud platform varies depending on the resources used, runtime, support and other factors. As of 2017, IBM offers a free 30-day trial with up to 2 GB runtime and container memory, as well as access to some IBM services. The pay-as-you-go tier allows users to pay only for the resources they use, and includes half a GB of runtime and container memory for free. The subscription tier includes a fixed monthly bill for public, dedicated or local environments. It also provides custom discounted prices.
To better estimate costs, organizations have access to the IBM Bluemix Pricing Calculator.
Continue Reading About IBM Bluemix
Dig Deeper on Platform as a Service and cloud computing
PRO+
Content
Find more PRO+ content and other member only offers, here.