MuleSoft is a vendor that provides an integration platform to connect applications, data and APIs across on-premises and cloud computing environments. To provide agility both on-premises and in the cloud, MuleSoft's Anypoint Platform integrates or connects SaaS applications and existing legacy applications through application programming interfaces (APIs). In addition, the platform integrates service-oriented architectures (SOA).

Download this free guide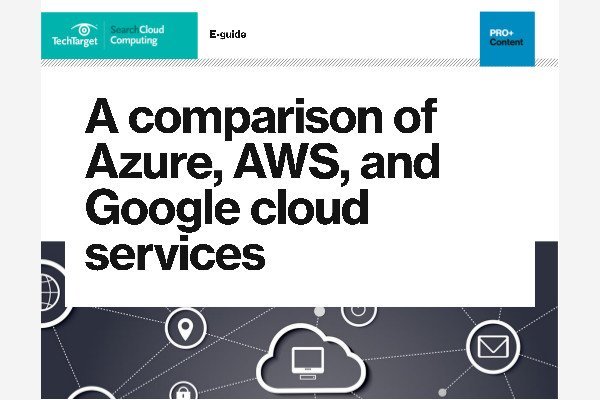 Download: Compare the cloud services of Azure, AWS, and Google
These three vendors offer services ranging from big data in the cloud to serverless computing and more. Read on for a vendor-neutral comparison by our experts.
By submitting your personal information, you agree that TechTarget and its partners may contact you regarding relevant content, products and special offers.
You also agree that your personal information may be transferred and processed in the United States, and that you have read and agree to the Terms of Use and the Privacy Policy.
MuleSoft's Anypoint Platform offers a number of tools and services, including:
API Designer: a web-based tool for creating APIs that also includes a console and a JavaScript scripting notebook. It also allows users to share their API design to receive feedback from other users.
API Manager: an API management tool that allows organizations to manage users, traffic, service-level agreements (SLAs) and API security. The API Manager also includes API Gateway -- an API security service that runs on-premises or in the cloud -- along with the API Policy Manager and API Contract Manager.
Anypoint Studio: a graphical design environment for building, editing and debugging integrations.
API Portal: a developer portal offering interactive documents, tutorials and code snippets. Also included in the API Portal are MuleSoft's Portal Designer, Developer Onramp and Access Controller tools.
API Analytics: an analytics tool that allows users to track API metrics, such as performance and usage. The API Analytics service also includes visualization tools, such as API Dashboards and API Charts.
CloudHub: a multi-tenant integration platform as a service (iPaaS) that connects SaaS applications and on-premises applications. The iPaaS includes a hybrid deployment option, disaster recovery and high availability.
Mule ESB: a platform that allows developers to connect SaaS and on-premises applications using pre-built connectors, integration templates and drag-and-drop tools.
Mule Enterprise Management: a management tool for servers, workflows and endpoints.
Based in San Francisco, MuleSoft was founded in 2006 by Ross Mason. According to the company's website, the name MuleSoft derives from the platform's ability to eliminate integration "donkey work." Additionally, because mules are a hybrid combination of donkeys and horses, the company chose the name to reflect its platform's hybrid capabilities.
According to its website, MuleSoft's customers include the Leukemia and Lymphoma Society, Justice Systems, Scripps Networks, Nespresso, UCSF Medical Center, eBay, Citrix, National Post, TiVo, the State of Colorado and more.
MuleSoft has gained the support of many major cloud providers, including Cisco, Salesforce and SAP. MuleSoft has also received financial backing from New Enterprise Associates, Hummer Winblad Venture Partners, Morgenthaler Ventures, Lightspeed Venture Partners, Bay Partners and others.
Continue Reading About MuleSoft
Dig Deeper on Software as a Service and cloud computing
PRO+
Content
Find more PRO+ content and other member only offers, here.