Definition
Platform as a Service (PaaS)
Platform as a service (PaaS) is a cloud computing model that delivers applications over the Internet. In a PaaS model, a cloud provider delivers hardware and software tools -- usually those needed for application development -- to its users as a service. A PaaS provider hosts the hardware and software on its own infrastructure. As a result, PaaS frees users from having to install in-house hardware and software to develop or run a new application.

Download this free guide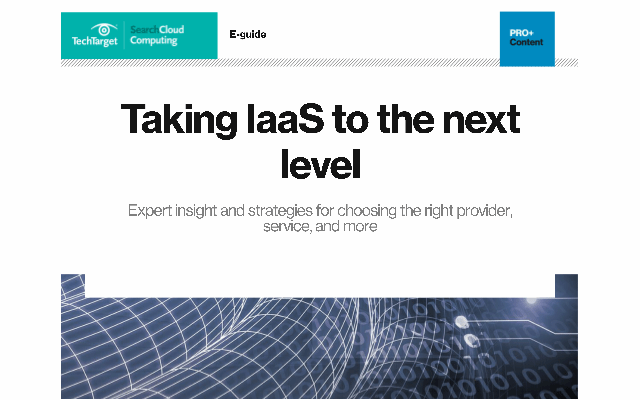 Take Infrastructure as a Service to the next level
Access this 16-page report to explore all of the imperative strategies, tools, and techniques you need in order to choose the right providers and services for your IaaS and PaaS offerings
By submitting your personal information, you agree that TechTarget and its partners may contact you regarding relevant content, products and special offers.
You also agree that your personal information may be transferred and processed in the United States, and that you have read and agree to the Terms of Use and the Privacy Policy.
PaaS does not typically replace a business' entire infrastructure. Instead, a business relies on PaaS providers for key services, such as Java development or application hosting. For example, deploying a typical business tool locally might require an IT team to buy and install hardware, operating systems, middleware (such as databases, Web servers and so on) the actual application, define user access or security, and then add the application to existing systems management or application performance monitoring (APM) tools. IT teams must then maintain all of these resources over time. A PaaS provider, however, supports all the underlying computing and software; users only need to log in and start using the platform – usually through a Web browser interface.
Most PaaS platforms are geared toward software development, and they offer developers several advantages. For example, PaaS allows developers to frequently change or upgrade operating system features. It also helps development teams collaborate on projects.
Users typically access PaaS through a Web browser. PaaS providers then charge for that access on a per-use basis. Some PaaS providers charge a flat monthly fee to access the platform and the apps hosted within it. It is important to discuss pricing, service uptime and support with a PaaS provider before engaging their services.
Since users rely on a provider's infrastructure and software, vendor lock-in can be an issue in PaaS environments. Other risks associated with PaaS are provider downtime or a provider changing its development roadmap. If a provider stops supporting a certain programming language, users may be forced to change their programming language, or the provider itself. Both are difficult and disruptive steps.
Common PaaS vendors include Salesforce.com's Force.com, which provides an enterprise customer relationship management (CRM) platform. PaaS platforms for software development and management include Appear IQ, Mendix, Amazon Web Services (AWS) Elastic Beanstalk, Google App Engine and Heroku.
PaaS is one of three main categories of cloud computing services. The other two are software as a service (SaaS) and infrastructure as a service (IaaS).
Continue Reading About Platform as a Service (PaaS)
PRO+
Content
Find more PRO+ content and other member only offers, here.