Windows Azure
Windows Azure is an integrated operating system for cloud computing that facilitates the management of scalable Web applications over the Internet. The hosting and management environment is maintained at Microsoft data centers. Windows Azure is similar to but distinct from Windows Server, which is intended for onsite hosting and management... (Continued)
Looking for something else?
PRODUCTS
What is Windows Azure?
What's in Your Cloud?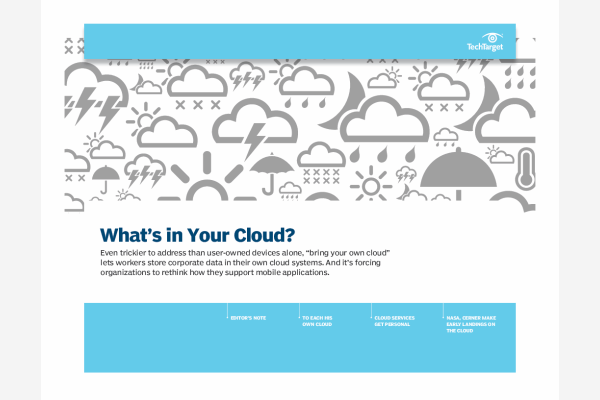 Keeping up with all those user owned devices—and devising policies to govern them and keep company data secure—can throw organizations for a loop. How has your company been handling the new trend?
Windows Azure is Microsoft's operating system for cloud computing.
As with other technologies for cloud computing, Windows Azure is intended to simplify IT management and minimize up-front and ongoing expenses. To this end, Azure was designed to facilitate the management of scalable Web applications over the Internet. The hosting and management environment is maintained at Microsoft data centers.
Windows Azure can be used to create, distribute and upgrade Web applications without the need to maintain expensive, often underutilized resources onsite. New Web services and applications can be written and debugged with a minimum of overhead and personnel expense. New capabilities can be added "on the fly" to existing packaged applications.
The Azure operating system is the central component of the company's Azure Services Platform, which also includes separate application, security, storage and virtualization service layers and a desktop development environment.
A feature called Automated Service Management facilitates application upgrading without compromising performance. Functions such as load balancing, caching, fault tolerance and redundancy are included to ensure high availability.
Windows Azure supports a wide variety of Microsoft and third-party standards, protocols, programming languages and platforms. Examples include XML (Extensible Markup Language), REST (representational state transfer), SOAP (Simple Object Access Protocol), Eclipse, Ruby, PHP and Python.
Windows Azure was codenamed "Red Dog" and was temporarily called "Windows Cloud" when first announced, in October 2008.
Learn More About IT:
> John Carroll discusses Windows Azure's key features and potential applications.
> Visit the official Microsoft Windows Azure Web site.
> John Fontana created a FAQ list for Windows Azure on Network World.
> Here's Alex Howard's blog post about Windows Azure.
> Here's Manuvir Das' presentation about Windows Azure from PDC08.
Dig Deeper on Platform as a Service and cloud computing
PRO+
Content
Find more PRO+ content and other member only offers, here.