cloud-in-a-can (cloud in a box)
A cloud-in-a-can, also called a cloud in a box, is a marketing term used to describe a turnkey product for private cloud deployments.
Looking for something else?
TECHNOLOGIES
A Cloud-in-a-can, also called a cloud in a box, is a turnkey product for private cloud deployments. Essentially, a private cloud is a virtualized environment behind a firewall that automates self-provisioning for authorized users whose business departments are billed by usage.
What's in Your Cloud?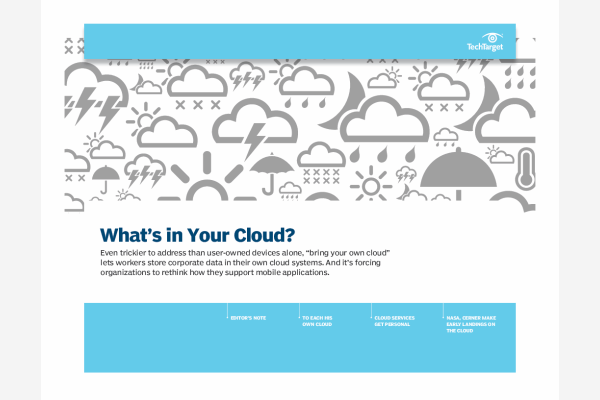 Keeping up with all those user owned devices—and devising policies to govern them and keep company data secure—can throw organizations for a loop. How has your company been handling the new trend?
By submitting your personal information, you agree to receive emails regarding relevant products and special offers from TechTarget and its partners. You also agree that your personal information may be transferred and processed in the United States, and that you have read and agree to the Terms of Use and the Privacy Policy.

Purchasing a cloud-in-a-can allows an IT department to deploy cloud services within the company relatively quickly. Instead of building the infrastructure from scratch, the IT department is free to concentrate on integrating the new hardware and software with legacy systems. Most cloud-in-a-can products offer pre-tested processing hardware, software and storage with connections already in place.
Examples include:
CloudStart - HP offers a mix of hardware, software and services that the company says can get a business up and running as a cloud provider in less than a month.
BizCloud - Computer Sciences Corp offers hardware and software which can be deployed on a customer's site within ten weeks.
Azure Appliance - Microsoft now allows customers to buy its Azure offering as an appliance and run it in their own datacenters.
Exalogic Elastic Cloud - Oracle is perhaps the first "cloud in a box" solution that is actually delivered to the customer in a box.
See also: IT chargeback, public cloud, hybrid cloud
Continue Reading About cloud-in-a-can (cloud in a box)
Dig Deeper on Cloud architecture design and planning