Definition
cloud management
Cloud management is the exercise of administrative control over public, private and hybrid clouds. A well-implemented cloud management strategy allows users to maintain control over these dynamic and scalable environments.

Download this free guide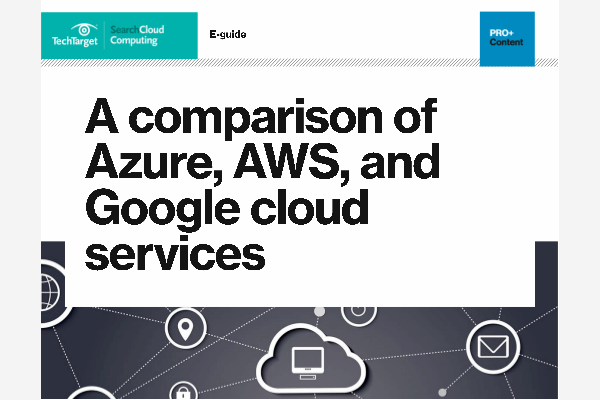 Download: Compare the cloud services of Azure, AWS, and Google
These three vendors offer services ranging from big data in the cloud to serverless computing and more. Read on for a vendor-neutral comparison by our experts.
By submitting your personal information, you agree that TechTarget and its partners may contact you regarding relevant content, products and special offers.
You also agree that your personal information may be transferred and processed in the United States, and that you have read and agree to the Terms of Use and the Privacy Policy.
A solid cloud management strategy helps organizations achieve several goals. First, cloud management introduces self-service capabilities that eliminate the traditional processes associated with IT resource provisioning. Users can access a public or private cloud, review current cloud instances or create new ones, monitor utilization and costs and adjust resource allocations. With reporting, users can track cloud budgets and reduce or delete unused instances to cut operating expenses.
Second, cloud management enables workflow automation. Through automation, organizations can turn business policies into the actionable steps needed to create and manage cloud instances, without requiring human intervention. In addition to creating, placing and adjusting cloud instances, workflow automation helps businesses meet their reporting, deployment and compliance needs. For example, cloud management tools can alert a manager when an employee tries to move a private cloud workload to the public cloud, potentially violating company compliance or security policies.
Third, cloud management enables ongoing analysis of cloud workloads and user experiences (UX). In a private cloud environment, organizations can ensure their infrastructure is working properly and offer a basis for tasks such as workload balancing and capacity planning. In public clouds, performance metrics for latency or downtime help ensure compliance with public cloud provider service-level agreements (SLAs). Using metrics, organizations can also decide whether it's time to change cloud providers or migrate workloads from public to private clouds.
Cloud management requires tools. Public cloud providers typically develop highly specialized tools to suit the capabilities of their services. For example, Amazon Web Services (AWS) allows users to access and manage cloud instances through a command line interface (CLI) that runs individual commands and scripts. However, most public cloud management tools limit users to basic workload tasks and reporting, offering little insights into the provider's underlying infrastructure or performance.
For private cloud management, organizations use in-house tools. Such tools can include platform-specific management software, such as VMTurbo Operations Manager, Embotics vCommander and cloud management and analytics tools from RightScale. Some private cloud management tools offer sophisticated software frameworks for managing complex private and hybrid cloud deployments. These tools include Microsoft System Center Virtual Machine Manager (VMM) for Hyper-V, VMware vCloud Suite, Red Hat CloudForms and Citrix CloudPlatform.
The success of any cloud strategy depends on the proper use of tools and automation, but a competent IT staff is also crucial. Although administrators don't handle cloud provisioning or related tasks, a business still needs cloud expertise to codify its policies into workflows. This requires an IT staff with knowledge of cloud tools and the business' cloud management goals. To deploy a private or hybrid cloud, enterprises must invest in IT training or hire new staff.
IT teams must also monitor cloud metrics, make critical infrastructure decisions, address patch and security vulnerabilities and update the business rule sets that drive cloud automation. Although IT doesn't run the cloud, it runs the tools that run the cloud. For example, tools can easily perform cloud workload balancing without any manual intervention from IT, but IT must set the performance thresholds and migration rules used to govern that process.
Companies lacking skilled IT staff can seek help from third parties. For example, a cloud service brokerage (CSB) is an intermediary firm that helps businesses identify and integrate suitable public cloud services. In addition, CSBs can aggregate multiple providers and allow a business to access multiple providers at once. An in-house IT staff well-versed in public cloud integration and management can sometimes act as CSBs.
Continue Reading About cloud management
Dig Deeper on Cloud management and monitoring
PRO+
Content
Find more PRO+ content and other member only offers, here.