Guiding the enterprise into a hybrid cloud model
Introduction
Previously thought of as a jumping off point for a true private or public cloud, the hybrid cloud model is proving itself as the final destination for enterprise IT.
A hybrid cloud allows enterprises to retain control of their IT environments while sending non-mission-critical workloads to the public cloud to take advantage of flexibility and scalability.
Though a hybrid cloud is built by combining at least one public and private cloud, deployment isn't that simple. Creating a hybrid cloud is complex work, as companies face problems with integration, migration and other hassles.
Still, the cloud provider market is listening. Vendors such as Red Hat, Amazon Web Services and VMware have introduced their own hybrid cloud services, and third-party organizations are creating tools to manage and deploy hybrid clouds.
Though the hybrid cloud model capitalizes on the benefits of both public and private clouds, it's not without its own risks. Debates about cloud security still linger, and the approach doesn't free you from unfair or confusing service-level agreements. But hybrid cloud can also solve many cloud risks by introducing cloud bursting and disaster recovery in what may be a more effective manner.
This essential guide hits on all the hybrid cloud model hot points -- deployment, management, the debates and the risks -- to ensure you're up to date on what could be the cloud model of the future.
1

Hybrid cloud deployment

-
Beginning a hybrid cloud project
The hybrid cloud model consists of at least one public cloud and one private cloud -- but deploying one isn't as easy as 1+1. Getting a hybrid cloud project off the ground means dealing with migration and integration challenges. Understanding how to get started on your hybrid cloud will be the key to success -- from choosing a provider to planning and executing a migration.
2

Hybrid cloud management

-
Fine-tuning management strategies for the hybrid cloud
Once your hybrid cloud project is off the ground, you have to keep it up and running. You don't have to reinvent the wheel; management strategies for public and private clouds can be adjusted for your new IT environment -- but even that can be difficult. Make use of tools and tricks to effectively manage your hybrid cloud.

Download this free guide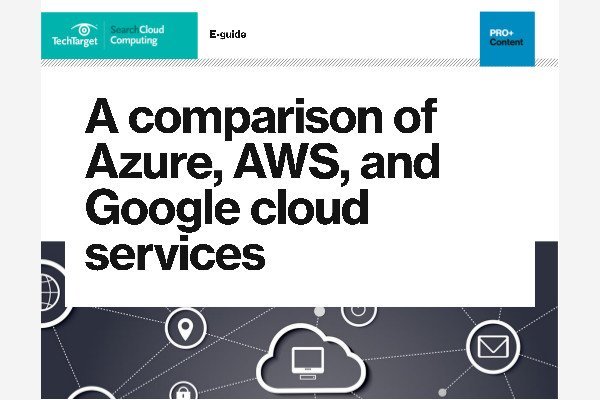 Download: Compare the cloud services of Azure, AWS, and Google
These three vendors offer services ranging from big data in the cloud to serverless computing and more. Read on for a vendor-neutral comparison by our experts.
By submitting your personal information, you agree that TechTarget and its partners may contact you regarding relevant content, products and special offers.
You also agree that your personal information may be transferred and processed in the United States, and that you have read and agree to the Terms of Use and the Privacy Policy.
3

Hybrid cloud architecture

-
Where hybrid cloud fits in the public vs. private cloud debate
By now, it's clear to enterprises and SMBs alike that public cloud can offer scalability, flexibility and other benefits, while private cloud capitalizes on increased control and, debatably, security. But companies don't have to choose sides in the public cloud versus private cloud battle. With hybrid cloud, enterprises can choose to have the best of both cloud worlds. Despite the past, the hybrid cloud model is rapidly becoming a destination architecture for IT departments, not just a stop along the way. And cloud providers are listening and pushing hybrid cloud services onto the market.
4

The hybrid cloud debate

-
Assessing the risks of the hybrid cloud model
Though the hybrid cloud model seems to be a perfect solution for an enterprise IT department that wants control, security and all of the benefits of cloud services, a hybrid approach isn't without its own risks. Security remains an obstacle for IT departments -- when those IT departments can agree on a hybrid cloud vision in the first place. However, apps like cloud bursting and tools for management and identity can help smooth over some of these lingering debates on the validity of the hybrid cloud model in production environments.
5

Hybrid cloud glossary

-
Understanding the key terms surrounding the hybrid cloud model