Fotolia
Manage
Learn to apply best practices and optimize your operations.
IT pros voice their Azure cloud management challenges
Microsoft Azure has made big strides in the cloud market over the past year, but some users still seek answers about how to best manage the public cloud platform.
Looking for something else?
TECHNOLOGIES

PRODUCTS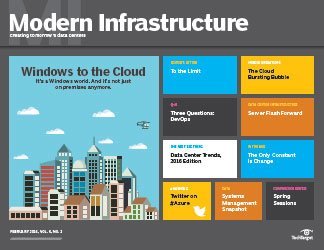 Download
While Amazon Web Services remains the undisputed public cloud king, Microsoft Azure is nipping at it heels. In 2015, Microsoft made a number of updates to its Azure public cloud offering -- including the addition of Azure Data Lake, the Internet of Things Suite and the Azure Container Service -- in hopes of luring more enterprise users on board. And it seems Azure is generating a lot of chatter in the IT market.
Ranging from Azure cloud management challenges to questions surrounding Microsoft's Enterprise Agreements, it seemed everyone had an opinion on Microsoft Azure this month.
Whether it's frustration over Azure's interface, or transient errors in Azure SQL, the people have spoken. So here's a round-up of recent Azure chatter from the Twittersphere.
Trying so hard to login and manage an existing #Azure EA subscription. Y U NO WORK? Expected: Add my email, I login and DONE. #TerribleUX

— Jason St-Cyr (@AgileStCyr) January 20, 2016
Was having a talk with someone about #Azure services where he pronounced it as A-zu-ray.

— Kacey Ezerioha (@KaceyEzerioha) January 20, 2016
Showing #Microsoft #Azure to someone unfamiliar with it. Watching them get extremely frustrated. :) :) #ItsNotJustMe #cloud

— Trevor Sullivan (@pcgeek86) January 20, 2016
once i have an #azure resource group setup, with automation, and VMs, etc, is it possible to duplicate that into another RG? for testing?

— Jason Harper (@jasonharper) January 20, 2016
I need to load balance internal traffic via express route across 2 azure datacenters, how can I do this? traffic manager won't work #Azure

— Bill Chesnut (@BizTalkBill) January 19, 2016
The new #Azure interface is awful. Sliding sideways windows, tiny text fields, can't open multiple windows (easily).

— Mike Ward (@mikeward_aa) January 19, 2016
Ah, seems that the cloud holds false gold. Transient errors in Azure SQL are real (& hurting us). 30s rec'd retry time #Azure #SQL #Cloud

— Sean Lindo (@SeanWritesCode) January 19, 2016
Dig Deeper on Public cloud providers
PRO+
Content
Find more PRO+ content and other member only offers, here.