5. James Staten, Vice President and Principal Analyst at Forrester Research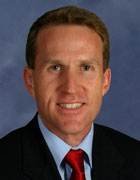 Despite the handicap of being an IT analyst, James Staten has been a beacon of clarity and common sense (seriously, how do you keep your analyst job with disabilities like those, James?) through his arguments for cloud computing as a long-term, systematic and very uncomfortable change facing enterprises. With predictions like "you will build a private cloud, and it will fail, and this is a good thing," Staten has a store of realistic, hardheaded advice on cloud for the enterprise that bypasses vendor pitches entirely.
Previously at No. 5, Larry Ellison and Marc Benioff
Obviously, they were only on the list as a joke.
This was first published in June 2011