10. As Microsoft Azure matures, pricing remains a problem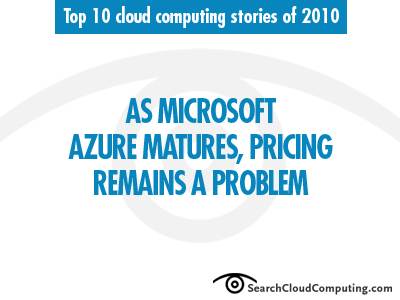 2010 was a big year for Microsoft's Azure platform. It became commercially available and added Remote Desktop and virtual machine support in February, giving Microsoft a new foothold in the cloud market. But Ray Ozzie's departure sparked questions about Microsoft's future in the cloud and concerns began to pop up in regards to Azure's pricing and virtualization underpinnings.
Several IT pros complained about Azure in June, noting that Microsoft's pricing model is confusing and Azure's virtualization backbone is not up to par with other cloud services. But as one of the giants in the IT industry, Microsoft will continue to do whatever it takes to keep up with Platform as a Service (PaaS) foes like Google and Salesforce.com in 2011. Betting against Redmond would not be wise.
This was first published in December 2010