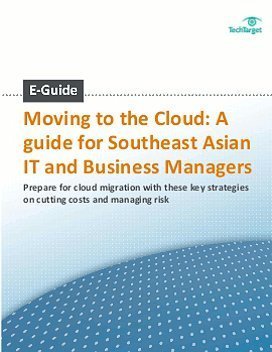 Download this step-by-step cloud migration guide
Is your data center ready for the cloud? Before moving forward with deployments, you must take the necessary steps to adequately prepare your infrastructure, evaluate cloud offerings and avoid common security pitfalls. Fortunately, in this exclusive guide, independent experts reveal best practices for ensuring a smooth and successful implementation process from start to finish – best practices that should be of particular interest to IT pros at organizations based in Southeast Asian organizations.

Key topics covered include: 
     * Assess existing infrastructure and set goals 
     * Implement security safeguards 
     * Understanding cloud-pricing models 
     * Moving from Capex to Opex 
     * And much more

Access expert advice on essential cloud migration topics so that you can cut costs, reduce risks and get the most from your cloud environment.
This was first published in July 2013