As a product marketer, I am fortunate that I get a chance to talk to customers and partners so that I can understand their perspectives about the product, what they want to learn, what is their organizational strategy and where our product fits in their strategy.
Customers have been using their on-premises infrastructure for years, but in today's digital transformation era, they are forced to innovate and build modern infrastructure. While public cloud leverages the benefits in terms of scalability, cost savings, innovation etc. they want to keep their on-premises infrastructure and reap the benefits of both the worlds. Hybrid cloud infrastructures helps them by removing the silos and integrating their on-premises infrastructure with the public cloud.
Adopting hybrid cloud comes with a few challenges: Different infrastructures between private cloud and public cloud; the inability to leverage existing IT skillsets and tools; differences in operational models and inability to leverage established on-premises governance, security and operational policies while taking advantage of cloud scale and agility; and lack of flexibility when strategically determining where to run your applications due to a lack of application portability and compatibility. This reduces agility in serving business needs and also increases costs.
How does VMware Cloud on AWS help?
It provides you operational consistency between your on-premises and cloud environment
There is no need for application refactoring or re-architecture when migrating to cloud
You can use same managements tools and skillsets that you were using on-premises, so there is no need to re-train staff
You can leverage established on-premises enterprise security, governance and operational policies
This diagram helps you visualize VMware Cloud on AWS: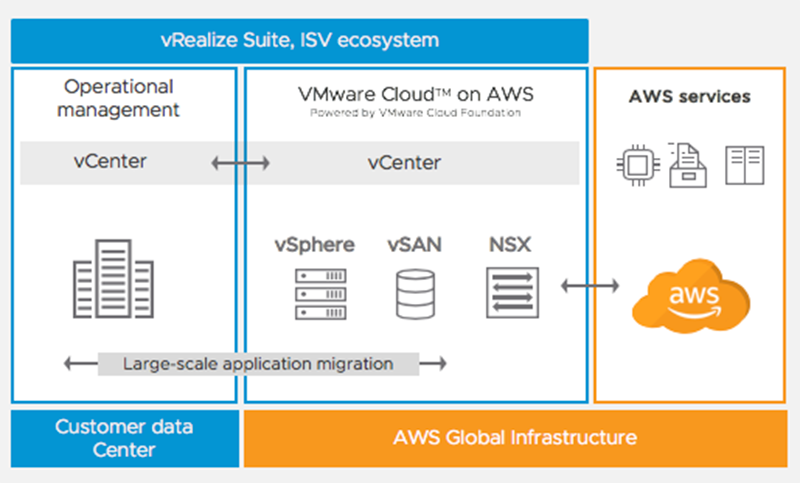 When we talked to our customers, we identified four main use cases where customers want to use this service in order to adopt hybrid cloud:
Cloud Migration, moving existing on-premises applications and workloads to the cloud
Data Center Extension, extending your on-premises data center to the cloud as per your business needs
Disaster Recovery, delivered as a service for VMware Cloud on AWS, providing on-demand site protection with native automated orchestration, failover and failback capabilities
Next-generation applications, building next generation applications by integrating with native cloud services
This is just a brief introduction to VMware Cloud on AWS. In the next set of blogs in this series, I will dive deeper into each of the use cases and give more technical details about features and capabilities of the service.