How do OpenStack Neutron, Dragonflow enable SDN?
As the OpenStack community continues to advance its software-defined networking capabilities, what role will the Neutron and Dragonflow components play?
The networking features within the OpenStack cloud platform continue to evolve rapidly.
New switch and service options surface regularly, and OpenStack Neutron, the platform's core networking component, continues to evolve toward a more standard, interchangeable model. For admins, this simplifies more advanced network operations, such as service chaining.
OpenStack Neutron uses network functions virtualization (NFV) and creates layers of network abstraction above the physical network. Protocols are attachable via overlay networking, a method of encapsulating protocols. While the overlay approach uses considerable compute power, it creates high levels of flexibility.
Because Neutron uses a network node that becomes a bottleneck at scale, the open source community introduced the Dragonflow submodule, a software-defined networking (SDN) controller, to act as a distributed virtual router for OpenStack clusters. Dragonflow has a small effect on OpenStack Neutron code but improves scalability and speed and simplifies management. It has an elastic architecture that reacts to virtual LANs in a cluster scaling up or down.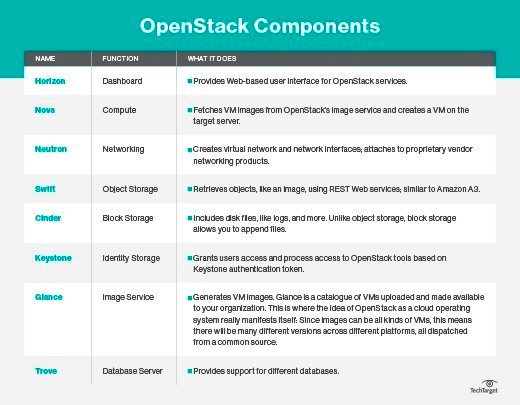 Dragonflow links to Kuryr, one of the OpenStack container subprojects, to bring SDN to the OpenStack containers environment. From a features perspective, Dragonflow supports L2/L3, Dynamic Host Configuration Protocol (DHCP), security groups and other advanced features.
Beyond OpenStack Neutron itself, there are numerous SDN and NFV initiatives in the open source community. OpenDaylight is an open source Linux Foundation effort to create a standard industry platform for SDN. Still in its early days, the OpenDaylight NetVirt module uses OpenStack Neutron's APIs and supports modular subservices, including L2, L3 DHCP IPv6 and others.
Dig Deeper on Open source cloud computing
OpenStack Cinder has added a revert-to-snapshot function, enabling enterprises to recover from corrupted data sets. However, if the feature falls ... Continue Reading
Don't let backup data encryption fall through the cracks. When encrypting backups, key management and compression are just two of the best practices ... Continue Reading
While tape is notably offline and thus protected from cyberattacks, the cloud could comprehensively surpass it for backup if service providers figure... Continue Reading