OpenStack Kolla looks to smooth container deployment process
Containers are a hot technology, and the OpenStack platform continues to evolve to support them. But where does the Kolla service fit into the OpenStack container picture?
OpenStack has moved quickly to support container deployment and embrace technologies such as Kubernetes and Docker. To further advance this effort, the OpenStack Ocata release in February 2017 introduced new container enhancements, including some for the OpenStack Kolla service.
OpenStack Kolla features for container deployment
Kolla, which is Greek for "glue," creates production-ready container images for OpenStack services and then, with the assistance of its container subprojects, deploys these images to build a more reliable OpenStack multinode configuration. OpenStack Kolla can create images to run on a variety of Linux distributions, which provides flexibility for a base environment of containers.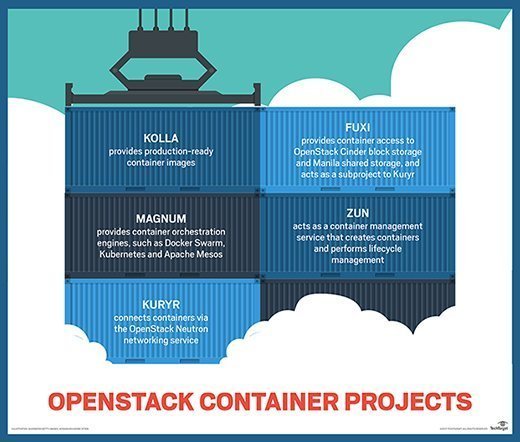 The main goal of the service is to create clean, pre-canned container images that users can deploy through one of OpenStack Kolla's subprojects -- Kolla-Ansible or Kolla-Kubernetes -- with the ability to scale as needed.
A key benefit of Kolla is that created images are posted to a public repository, such as Docker Hub, or a private repository, which makes them securely available over time. It also offers a way to work with third-party tools or the OpenStack community. For example, OpenStack Kolla combined with Kolla-Ansible provides a way to check the OpenStack multinode configuration for integrity prior to final deployment.
Overall, OpenStack Kolla makes it easier to build out, scale and maintain consistent container deployment on OpenStack. Like many other components of OpenStack, it is a work in progress, but it is stable enough for use in production -- provided admins carefully review the release notes first. The next OpenStack release -- Pike -- will likely focus on more robust management features, an improved user experience and security-related issues.
Dig Deeper on Managed Kubernetes and container services