 BACKGROUND IMAGE: iSTOCK/GETTY IMAGES
Hybrid cloud management tools: An overview of functions and products
Editor's note
Hybrid cloud management tools are a hot topic for IT buyers today. More and more companies are looking to adopt hybrid cloud because it is suitable for the dynamic and highly changeable workloads that modern enterprises run. Common drivers for hybrid cloud deployment include cloud bursting, security and compliance, and application development and testing.
Choosing suitable hybrid cloud management tools can be difficult since there is a level of hype that surrounds them, and the tool sets are still young and quickly evolving. It is important for buyers to note that effective hybrid cloud management tools must successfully cover deployment, monitoring, policy-based control, security and billing to keep the platform on track. Companies must also decide between proprietary or open source tools, a third-party or cloud-provider native tools, or whether to outsource management completely. The myriad of options complicates the process, but buyers can make the best decision for their enterprises if they carefully consider their enterprise needs, as well as the fast-growing hybrid cloud market as a whole. Right now, many admins use multiple tools to deploy a full hybrid cloud management system, but as the market continues to expand, an all-encompassing management platform is more of a possibility.
This guide will help buyers understand the significance of the hybrid cloud in the modern enterprise, common use cases that would require hybrid cloud management tools, what major features to look for when assessing prospective software and, lastly, provides a comprehensive roundup of some notable vendors in the hybrid cloud management market.
1

The hybrid cloud management platform and what it can do for the enterprise

Modern enterprises see many use cases for hybrid cloud, but their primary needs will determine the management tools that suit them best.
2

The major functions of hybrid cloud management software

When purchasing hybrid cloud management tools, admins must consider the source, deployment model and outsourcing options, as well as a long list of technical criteria.

Download this free guide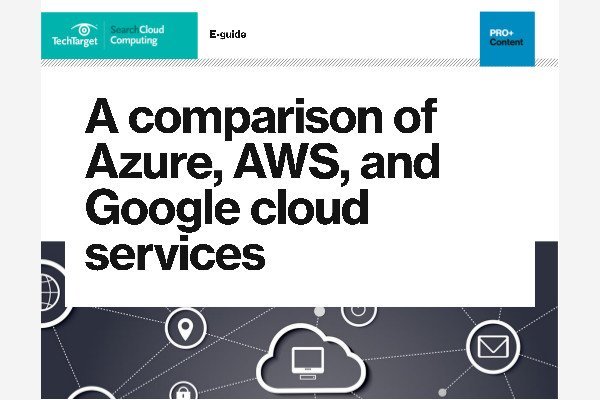 Download: Compare the cloud services of Azure, AWS, and Google
These three vendors offer services ranging from big data in the cloud to serverless computing and more. Read on for a vendor-neutral comparison by our experts.
3

Hybrid cloud management software and the buyers' options

Buyers need some general ground rules to select the right mix of hybrid cloud management tools, and should consider the current state of their hybrid cloud deployment when comparing the options available.
4

Hybrid cloud management tools and an overview of the market

The vendor and product options available in the hybrid cloud management market are various and evolving -- there are third-party and provider-native options, as well as diversity in the features they offer.