Cloud Foundry is an open source cloud platform as a service (PaaS) on which developers can build, deploy, run and scale applications. VMware originally created Cloud Foundry, and it is now part of Pivotal Software, whose parent company is Dell Technologies.

Download this free guide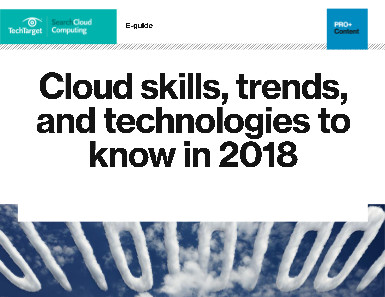 Survivor's guide for rapidly shifting cloud skills needs
Cloud technologies around automation, big data, AI, and more are rapidly changing. Download this guide below to see how you can stay up to date and survive these large-scale changes.
Cloud Foundry is licensed under Apache 2.0 and supports Java, Node.js, Go, PHP, Python, Ruby, .NET Core and Staticfile. The open source PaaS is highly customizable, allowing developers to code in multiple languages and frameworks. This eliminates the potential for vendor lock-in, which is a common concern with PaaS.
Developers choose Cloud Foundry for its free, open source nature and for the ability to use their own tools and code. Organizations can deploy Cloud Foundry PaaS on their own internal infrastructure; on cloud providers' infrastructure, such as Amazon Web Services (AWS) or OpenStack; or on Cloud Foundry-certified platforms, including IBM Bluemix Cloud Foundry, Pivotal Cloud Foundry, SAP Cloud Platform, Huawei FusionStage and Swisscom Application Cloud.
Similar platforms and competitors to Cloud Foundry include OpenShift, Google App Engine and Heroku.
Cloud Foundry components
According to the Cloud Foundry Foundation, the Cloud Foundry platform is made up of seven core groups of components:
Routing. Directs traffic coming into the Cloud Foundry platform to the appropriate component.
Authentication. Contains an OAuth2 server and login server for user identity management.
Application Lifecycle. Provides application deployment and management services. It includes the Cloud Controller, a service that pushes or deploys an application to Cloud Foundry; pieces of Cloud Foundry's Diego architecture for the management of containerized applications; and nsync, which monitors the state of an application.
Application Storage and Execution. Contains a Blobstore repository for large files, as well as Diego Cell, another component of the Diego architecture. Every virtual machine (VM) has a Diego Cell that manages when an application starts and stops, as well as the VM's containers.
Service Brokers. Helps link applications to certain services, such as databases.
Messaging. Provides the ability for VMs to communicate through HTTP or HTTPS protocols. It includes the Consul server, which stores long-term control data like component IP addresses, as well as the Bulletin Board System (BBS), which stores data that is updated more frequently, such as application status.
Metrics and Logging. Provides Loggregator, which streams application logs to developers, and the Metrics Collector, which provides data to help organizations monitor their Cloud Foundry environment.

Cloud Foundry components
The history of Cloud Foundry
In 2009, VMware engineers Mark Lucovsky, Derek Collison and Vadim Spivak started to lead the team that designed and architected the Cloud Foundry platform. On April 11, 2011, Cloud Foundry was launched by VMware, which called the platform the industry's first open source PaaS.
In 2012, VMware and its parent company EMC revealed plans to spin off parts of their cloud and software business -- including Cloud Foundry -- into a new business called Pivotal Software.
In September 2016, Dell Technologies acquired EMC, including its VMware and Pivotal businesses.
Cloud Foundry Foundation members
In February 2014, Pivotal announced its intention to establish an open governance model for the Cloud Foundry platform, as well as create a nonprofit foundation dedicated to advancing the Cloud Foundry technology and vendor ecosystem around it.
The Cloud Foundry Foundation has since grown to more than 50 members, including:
Accenture
Allianz
Allstate
APL Software
AppDynamics
Armakuni
Atos
Biarca
Bloomberg
BNY Mellon
Bosch
CA
Capgemini
Cisco
Cloudsoft
Cognizant
Comcast
Dell EMC
ECS Team
Evoila
Fidelity International
Ford
Fujitsu
GE Digital
Gemalto
Google
Grape Up
Hazelcast
Hexad
Hitachi
Honeywell
Huawei
JPMorgan Chase
Mendix
Mimacom
MoPass
NIA
NTT
Philips
Pivotal
Proximetry
Qio
RBC
Redis Labs
Resilient Scale
SAS
Stark & Wayne
SUSE
Swisscom
Telstra
TIBC
Toshiba
Volkswagen
Continue Reading About Cloud Foundry
Dig Deeper on Platform as a Service and cloud computing
PRO+
Content
Find more PRO+ content and other member only offers, here.