Definition
IBM Bluemix Local
IBM Bluemix Local is a private version of the IBM Bluemix public cloud platform. Users deploy the IBM Bluemix Local platform on their own on-premises hardware, behind their firewall within their own data center. IBM Bluemix Local is primarily used as a platform as a service (PaaS) by enterprises and application developers that need to keep sensitive data on premises or in a private cloud for compliance reasons.
Despite running on customers' hardware and in customers' facilities, IBM Bluemix Local is remotely managed and monitored by IBM. IBM remotely manages updates for the IBM Bluemix Local platform through its IBM Relay technology. When there's a new update or security patch for the platform, Relay pushes those updates and patches to the IBM Bluemix Local admin console and allows enterprises to update the environment at its convenience. This helps keeps local deployments of IBM Bluemix on the same release cycle as the IBM Bluemix public cloud.
The IBM Bluemix Local platform is intended to help enterprises use a hybrid cloud approach to cloud computing. Because IBM Bluemix Local and the IBM Bluemix public cloud share the same underlying infrastructure, developers can build applications on premises in the local environment and then expand or migrate those applications to the IBM Bluemix public cloud. IBM Bluemix Local and the IBM Bluemix public cloud also share a common administrative console, which means users can manage updates, approve user access to certain services and perform other tasks for both environments through a single location.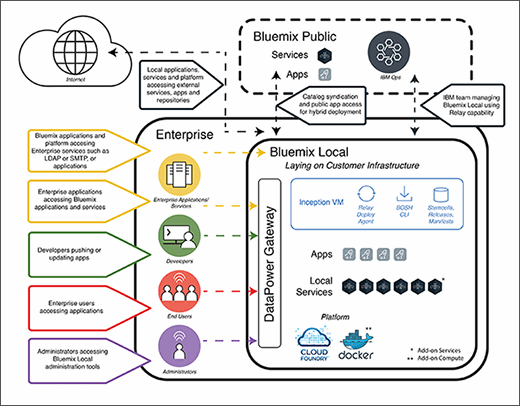 IBM Bluemix Local has access to IBM Bluemix public cloud services and APIs, and a syndicated catalog combines approved services for users to deploy within both cloud environments. IBM Bluemix Local also offers autoscaling and Bluemix runtimes, and users can purchase additional services such as the IBM Bluemix Container Service for container-based virtualization and the IBM Watson Internet of Things Platform.
When deploying the IBM Bluemix Local, users can choose from two hardware options to host the platform: VMware hardware or a Bluemix Local System appliance from IBM. Other on-premises cloud systems that are comparable to IBM Bluemix Local include Microsoft's Azure Stack and Oracle Cloud Machine.
This was last updated in
March 2017
Continue Reading About IBM Bluemix Local
Dig Deeper on Public cloud and other cloud deployment models