Definition
cloud-oriented architecture (COA)
A cloud-oriented architecture (COA) is a conceptual model encompassing all elements in a cloud environment. In information technology, architecture refers to the overall structure of an information system and the interrelationships of entities that make up that system.
According to Jason Bloomberg, of ZapThink, the development of a global cloud-oriented architecture is an essential building block of the Internet of Things, in which anything that can be identified – including people, coffee machines, park benches and just about any other random item you can think of – can be tagged and connected through the Internet or a similar wide-area network (WAN).
Content Continues Below

Download this free guide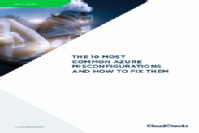 10 Common Azure Misconfigurations and How to Fix Them
The cloud migration journey is rarely ever smooth, but that doesn't mean you can't get ahead of issues as you embark on your journey. Download now to learn 10 most common Azure misconfigurations that are overlooked by cloud engineers and how they can be fixed.
A cloud-oriented architecture is related to both service-oriented architectures (SOA) and event-driven architectures (EDA) and is a combination of two other architectural models: the resource-oriented architecture (ROA) and the hypermedia-oriented architecture (HOA). A ROA is based on the idea that any entity that can be assigned a uniform resource identifier (URI) is a resource. As such, resources include not only infrastructure elements such as servers, computers and other devices, but also Web pages, scripts and JSP/ASP pages, and other entities such as -- for one example among a great many possibilities -- traffic lights. Hypermedia extends the notion of the hypertext link to include links among any set of multimedia objects, including sound, video, and virtual reality.
This was last updated in
July 2012
Continue Reading About cloud-oriented architecture (COA)
Dig Deeper on Cloud architecture design and planning