 BACKGROUND IMAGE: iSTOCK/GETTY IMAGES
A public cloud is one based on the standard cloud computing model, in which a service provider makes resources, such as virtual machines (VMs), applications or storage, available to the general public over the internet. Public cloud services may be free or offered on a pay-per-usage model.

Download this free guide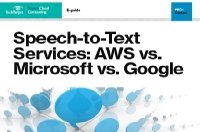 Download Now: Speech-to-Text Services: AWS vs. Microsoft vs. Google
In this guide, gain expert advice from IT expert Jon Arnold on building a business case for speech technology, and receive an overview of what Amazon, Microsoft and Google bring to the table.
The main benefits of using a public cloud service are:
it reduces the need for organizations to invest in and maintain their own on-premises IT resources;
it enables scalability to meet workload and user demands; and
there are fewer wasted resources because customers only pay for the resources they use.
Public cloud architecture
Public cloud is a fully virtualized environment. In addition, providers have a multi-tenant architecture that enables users -- or tenants -- to share computing resources. Each tenant's data in the public cloud, however, remains isolated from other tenants. Public cloud also relies on high-bandwidth network connectivity to rapidly transmit data.
Public cloud storage is typically redundant, using multiple data centers and careful replication of file versions. This characteristic has given it a reputation for resiliency.
Public cloud architecture can be further categorized by service model. Common service models include:
software as a service (SaaS), in which a third-party provider hosts applications and makes them available to customers over the internet;
platform as a service (PaaS), in which a third-party provider delivers hardware and software tools -- usually those needed for application development -- to its users as a service; and
infrastructure as a service (IaaS), in which a third-party provider offers virtualized computing resources, such as VMs and storage, over the internet.
Public cloud vs. private cloud and hybrid cloud
The term public cloud arose to differentiate between the standard cloud computing model and the private cloud, which is a proprietary cloud computing architecture dedicated to a single organization. Private cloud differs from public cloud, as it serves as an extension of a company's existing data center and is accessible only by that company.
A third model, the hybrid cloud, is maintained by both internal and external providers. In effect, a hybrid cloud is a combination of public and private cloud services, with orchestration between the two. In some cases, this model is attractive because it enables organizations to tap into the benefits of the public cloud, while maintaining their own private cloud for sensitive, critical or highly regulated data and applications.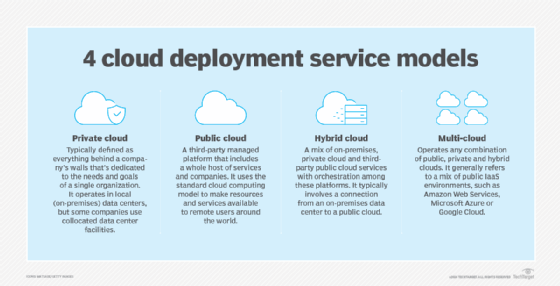 Public cloud pros and cons
In general, the public cloud is seen as a way for enterprises to scale IT resources on demand, without having to maintain as many infrastructure components, applications or development resources in house.
The pay-per-usage pricing structure offered by most public cloud providers is also seen by some enterprises as an attractive and more flexible financial model. For example, organizations account for their public cloud service as an operational or variable cost rather than as a capital or fixed cost. In some cases, this means organizations do not require lengthy reviews or advanced budget planning for public cloud decisions.
However, because users typically deploy public cloud services in a self-service model, some companies find it difficult to accurately track cloud service usage, and potentially end up paying for more cloud resources than they actually need. Some organizations also just prefer to directly supervise and manage their own on-premises IT resources, including servers.
In addition, because of the multi-tenant nature of public cloud, security is an ongoing concern for some enterprises evaluating the cloud. While public cloud providers offer security technologies, such as encryption and identity and access management tools, some organizations -- especially those with strict regulatory or governance requirements -- choose to keep workloads on premises.
Public cloud providers and adoption
The public cloud market is led by a few key players, including Amazon Web Services (AWS), Microsoft Azure and Google Cloud Platform. These providers deliver their services over the internet and use a fundamental pay-per-usage approach. Each provider offers a range of offerings oriented toward different workloads and enterprise needs.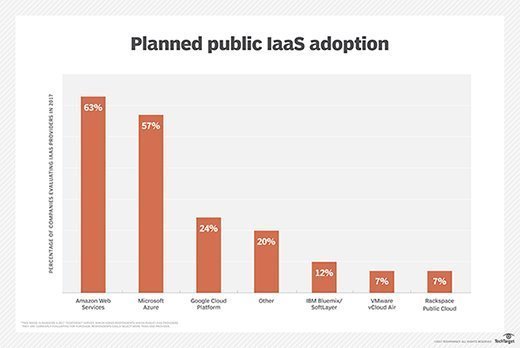 Estimates of public cloud usage vary widely across different countries, but most market research and analyst firms expect adoption to continue to grow.
Continue Reading About public cloud