 BACKGROUND IMAGE: iSTOCK/GETTY IMAGES
A comprehensive look at the path to cloud migrations
Editor's note
Many organizations embark on cloud migrations to achieve scalability, cost-efficiency and higher application performance. But migrating apps to the cloud is a complex process that requires careful planning and deliberation.
It's essential that organizations consider all possibilities -- both good and bad. Cloud migration issues, such as unexpected costs, interoperability, security gaps and unanticipated application rework, can create significant obstacles. To help smooth a frequently bumpy path, organizations need to craft a well-thought-out migration strategy.
Whether your organization is migrating to the cloud from an in-house environment or from one cloud to another, it's important to understand the process and temper any exorbitant expectations. And, since not every application will benefit from the cloud, make sure a migration is right for your organization before diving in.
1

Technical considerations for migrating to the cloud

Cloud migrations can be laborious, requiring many steps and manual adjustments. While a solid cloud migration strategy can simplify the process, enterprises still need to consider a number of factors, including tools, governance, performance, application design and more. With a plethora of third-party tools available, it's important to identify those that best meet your migration needs. Additionally, enterprises must consider scary, what-if scenarios, such as a migration driving up, rather than reducing, application costs.
2

Mitigating migration challenges for cloud success

The path to cloud computing can be a long and arduous one for organizations considering migration. Whether an enterprise is migrating from an on-premises environment or from one cloud to another, it's a risky proposition. Enterprises often contend with regulatory and compliance issues, unexpected budget busters, poor performance, security concerns and more. But for many organizations, improved scalability, agility and other cloud benefits make the risk worth the reward.

Download this free guide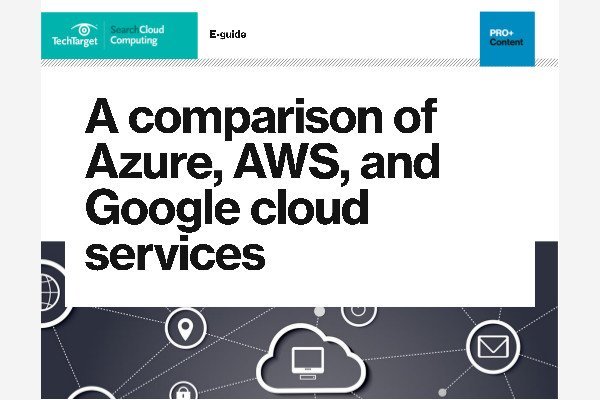 Download: Compare the cloud services of Azure, AWS, and Google
These three vendors offer services ranging from big data in the cloud to serverless computing and more. Read on for a vendor-neutral comparison by our experts.
3

Terms to note for migrating apps to the cloud

Cloud migrations are a hands-on process, so enterprises need to have solid knowledge of the latest terms and technology. And because cloud computing is a rapidly evolving area of IT, its evolution brings new terminology for enterprises to learn. What are the differences between cloud migrations and cloud-to-cloud migrations? How will noisy neighbors affect my application's performance once it's in the cloud? These definitions prepare enterprises for their cloud journey and help to ensure a successful migration.