Manage
Learn to apply best practices and optimize your operations.
An IT pro's survival guide for multi-cloud computing
Don't get lost on the multi-cloud computing trail. Use this guide to determine if multi-cloud meets your IT needs, choose the right mix of providers and map out a multi-cloud management strategy.
1

Prep for multi-cloud computing

-
An introduction to multi-cloud
Finding a cloud model that works for you shouldn't be like traveling without a GPS. With multi-cloud computing, you can mix and match public cloud services to meet your enterprise's unique needs. But before heading down that road, it's important to understand the ins and outs of a multi-cloud deployment, including the benefits and challenges. Here's a closer look at the evolution of multi-cloud computing in the enterprise and what cloud admins can expect.
2

Weigh cloud vendor options

-
Selecting providers for multi-cloud
Choosing providers for a multi-cloud environment can be just as difficult, if not more difficult, than choosing a single cloud provider. IT pros must carefully evaluate vendors to determine which offer the services they need and fit within their budget. But organizations should also remember that, even after they make their choice, there is no need to put down permanent roots. Continuously assess selected providers and know when it's time to pack up and leave for another one.

Download this free guide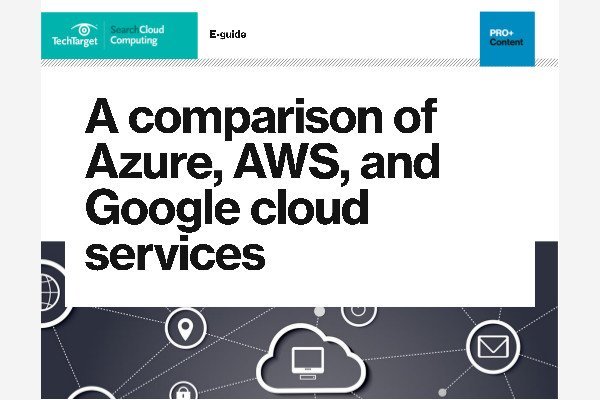 Download: Compare the cloud services of Azure, AWS, and Google
These three vendors offer services ranging from big data in the cloud to serverless computing and more. Read on for a vendor-neutral comparison by our experts.
3

Management and development

-
Multi-cloud management and development considerations
Infrastructure management in a multi-cloud model can introduce a boatload of obstacles. Before jumping in, test the waters by mapping the features you need to the possible services or tools that can help you manage them. As multi-cloud computing becomes more common, vendors are developing new management tools to help you track expenses and resources across cloud platforms. In addition, always develop apps with portability in mind to ensure smooth sailing on your multi-cloud voyage.
4

Multi-cloud cost optimization

-
Manage multi-cloud costs
Enterprises want their cloud environment to perform well, but also need to pay attention to their bottom line. Cost management and optimization is a huge endeavor with a single cloud platform, and the use of multiple clouds creates even more complexity. There are several aspects of a multi-cloud strategy that can increase your bill, such as network integration and traffic costs, so enterprises need to carefully monitor these areas. Fortunately, there are native and third-party cost-management tools to track and optimize spending.
5

Terms to know for multi-cloud

-
Multi-cloud glossary
Before you adopt a multi-cloud model, it's important to understand the key terminology. Whether you're an IT pro using multi-cloud today, or just want to get a better grasp on the concept, here are definitions you should know.