An enterprise guide to big data in cloud computing
Editor's note
Big data is no longer just the future -- it's the present. The retail industry, for example, uses big data to better understand its customers, and to optimize internal business processes. Scientists are now able to crunch large amounts of data at a more rapid pace for research. The benefits of big data have expanded beyond the enterprise, too, helping individuals track personal health based on data from wearable devices.
Big data in the public cloud allows organizations to tap into some of these benefits without having to invest the time, money and IT staff needed for an on-premises deployment. The use of big data in cloud computing also helps enterprises process, analyze and manage large, varied data sets more quickly and efficiently. To start, organizations should evaluate the data they have and determine the insights they want from it. Next, they should evaluate the big data services and management tools from top cloud providers, such as Amazon Web Services (AWS), Azure and Google.
Follow this guide on big data in cloud computing to get started.
1

Choose the right big data management, analytics tools

After choosing a cloud service provider, the next step is to evaluate management, monitoring and other tools for big data in cloud computing. While providers offer some native tools within their services, be sure to also evaluate third-party and open source tools that can help you manage large amounts of data in the cloud. Hadoop, a Java-based programming framework, is a popular tool to process large data sets and also includes MapReduce, a component that enables distributed processing of massive, unstructured data sets across compute clusters. In addition, enterprises should consider various tools and methods to keep big data secure.
2

Read up on recent big data and cloud news

Top providers AWS, Azure and Google dominate news around big data in cloud computing. These vendors introduce and update big data services at a rapid pace to lure in enterprise customers. While Google has years of experience due to its search engine practice, and recently scored Spotify as a customer, AWS and Azure have also made steady progress. AWS, for example, offers a large amount of data storage choices, and Azure has unique services, such as its Cortana suite for advanced intelligence capabilities.

Download this free guide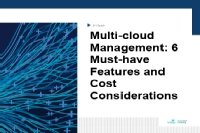 6 Multi-Cloud Management Tool Must-Haves
To address issues with managing multi-cloud environments, some teams are turning to a cloud management platform to bring disparate environments under control. In this expert guide, explore key features your tool should have to ensure it can meet your organization's specific requirements.
3

See how much you know about big data in cloud computing

An important part of the learning process is to quiz yourself on the subject. Take this test to see if you know the big data basics.