 BACKGROUND IMAGE: iSTOCK/GETTY IMAGES
Combat the latest cloud security challenges and risks
Editor's note
Even though the benefits of cloud computing are clear to most enterprise IT teams, security remains a top make-or-break issue, often influencing organizations' decisions around cloud. A primary fear is losing control over IT infrastructure and applications, once they're in a public cloud provider's hands.
But security technologies are evolving, and enterprises have more access to cloud security tools that provide the control and visibility they crave. New environments, such as hybrid and multicloud, can create additional gaps and vulnerabilities, but tools, such as cloud access security brokers, now target those unique attack surfaces. By forming a comprehensive strategy, enterprises can take a proactive approach against cloud security challenges and risks.
1

What to consider when building a cloud security plan

After deciding to migrate to the cloud -- and getting the business on board -- reevaluate your IT strategy to address any cloud security challenges and risks. Start by researching cloud providers' capabilities to determine if their certifications and tools fit your security requirements. Don't assume your provider will handle all your security needs; sometimes, adding third-party tools is necessary to address vulnerabilities. Finally, when securing your cloud, remember there are internal cloud security threats as well as external. There is no one-size-fits-all security strategy, so be sure to craft your plan around the enterprise's individual needs.
2

Build a wall around your cloud with security tools

Cloud is always evolving, which means cloud security technologies need to evolve alongside it. Hybrid and multicloud environments present new cloud security challenges and risks as data moves between on premises and the cloud. To address this vulnerable gap, cloud access security brokers (CASBs) focus on protecting that in-between area. Cloud security tools are also becoming more specialized, targeting certain areas such as data, through encryption, or user authorization, through IAM management. Explore provider and third-party tools to reduce cloud security threats.

Download this free guide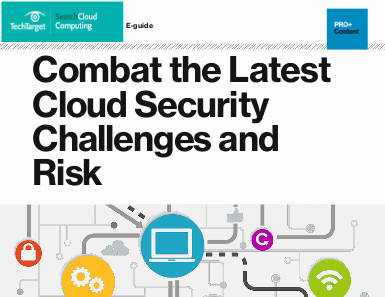 Combat the Latest Cloud Security Challenges and Risk
Enterprises continue to put cloud security strategies at the top of their to-do lists. Learn the latest cloud security risks and trends, as well as tips to secure your deployment.
3

Climb into a hacker's mind with cloud security testing

One of the best ways to find cloud security is to attack like a hacker would. Testing your cloud is a critical part of a cloud security strategy. Not all environments have the same weak spots and there is no standard test that will discover all issues. In addition, don't assume that certain workloads don't need to tested, just because they're inaccessible from the internet. When it comes to cloud security challenges and risks, don't overlook internal threats. Testing your cloud is the only way to know where your cloud needs some extra security attention, whether external or internal.
4

Stay up to date on cloud security

Cloud security has been stealing tech headlines with data breaches, new technologies and improved compliance agreements. These stories reveal new cloud security challenges and risks, as well as the improvements being made to answer those concerns. Top cloud providers, such as Amazon Web Services, Azure and Google, continue to compete with each other to provide the best security services possible, with each new update bringing more protection to the cloud. Providers are also keeping a close eye on the transfer of personal data between the U.S. and Europe.
5

Learn important cloud security terms

To recognize and overcome cloud security challenges and risks, it's important to understand the vocabulary. No matter your knowledge level, here are some basic definitions you should know.