Evaluate
Weigh the pros and cons of technologies, products and projects you are considering.
Enterprise cloud security best practices for locking down your cloud
Best practices for locking down your cloud
Introduction
With ever-changing cloud compliance guidelines, headlines in the media about cloud privacy issues in the wake of PRISM and a growing crop of new vendor services, enterprise cloud security can be a difficult beast to wrangle. And enterprises see it that way, too, as data security issues continue to halt cloud adoption for loads of companies. However, with the assistance of cloud experts, enterprises, especially heavily regulated ones, can sift through all the noise and better secure their cloud environments.
1

cloud security obstacles

-
Cloud computing security still halts enterprise adoption
Despite cloud's increasing prevalence in IT departments, many enterprises are still concerned with data security. The fear isn't limited to smaller or lesser-known cloud providers; enterprises are even concerned about Amazon Web Services (AWS), which has reigned supreme in the cloud market since its inception. And with recent events such as the NSA's PRISM scandal, enterprise cloud security worries may have taken a turn for the worse. Some experts, however, claim that these events only enhance cloud security, as vendors are aiming to give the customers what they want.
2

Cloud security practices

-
Best practices, tools for securing your cloud environment
With private, public and hybrid clouds, plus bring-your-own-device (BYOD) and open source cloud, enterprise cloud security can be difficult for enterprises to attain even while following security best practices. In addition cloud vendors are increasingly adding tools and services, such as Security or Authentication as a Service, to assist enterprises with protecting their clouds. But some of the options only add to the confusion. These tips and features from cloud experts should help enterprises wade through their options.

Download this free guide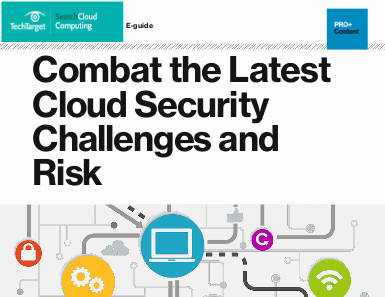 Combat the Latest Cloud Security Challenges and Risk
Enterprises continue to put cloud security strategies at the top of their to-do lists. Learn the latest cloud security risks and trends, as well as tips to secure your deployment.
3

Cloud security and compliance

-
Aligning with compliance, security standards in the cloud
Enterprises, particularly heavily regulated ones, must align with cloud compliance guidelines. The financial, healthcare and government industries have to pay careful attention to changing blueprints for their IT environments, and sometimes it can be hard to tell whether the responsibility lies with the cloud provider or the enterprise. Cloud experts can help sort through the guidelines and give discreet steps on how to comply.