Get started
Bring yourself up to speed with our introductory content.
It's more than an IT job -- it's a cloud career
Cloud computing jobs are hot commodities in IT, as more companies adopt cloud. From managing big data to cracking down on security, a cloud career can head in a number of different directions.
Introduction
Cloud computing presents a number of new employment opportunities for qualified individuals in the IT space. And many administrators are looking to ditch the server and hop onto the cloud bandwagon to climb the corporate IT ladder.
Cloud computing jobs range from architects and developers to data scientists, security pros and more, all of which require a specific focus. Honing your IT skills to cloud is crucial to receive that big promotion, land that next hot cloud job and enjoy a long cloud career.
If you're planning to work in cloud, the education never stops. Many cloud providers offer vendor-specific training and certifications. In addition, cloud admins can pursue vendor-neutral certifications, such as those from industry trade association CompTIA, to better distance themselves from the other applicants. One thing is for certain with a cloud career -- boredom will never be an issue.
1

Find a cloud computing career

-
Mapping a career path to cloud
As more companies adopt public, private and hybrid cloud, the need for trained admins increases exponentially. There are many different avenues to take when you're mapping out your cloud career – developer, architect, data analyst, security guru. Just take a peek at Monster.com and you'll see a bevy of cloud-focused jobs from which to choose. But what positions are hot right now? And which of those have staying power?
2

Cloud skills and education

-
Expand your education to sharpen your cloud skills
Working in cloud computing -- like any career -- requires specific skills and knowledge. And in a competitive job market, it's important to distance yourself from other candidates. What types of cloud skills are companies looking for today? Innovative ideas and the drive to keep learning certainly wouldn't hurt any potential cloud pro's chances of landing a good job.

Download this free guide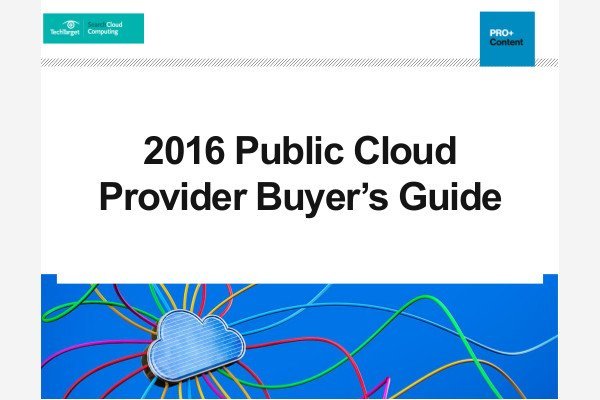 Download: Your guide to the Public Cloud
It has become a daunting task for IT administrators to determine which, if any, cloud provider is right for their enterprise. This exclusive guide walks readers through the benefits of using public cloud services, how to weigh the pros and cons of each cloud provider, and more.
3

Cloud exams and certifications

-
Studying up for cloud computing exams and certification
Moving forward in an IT career means staying ahead of the technology learning curve. And as cloud computing sweeps into the data center, enterprise IT needs to keep an eye on relevant training and testing for certifications that can help kick-start their cloud careers. Which types of cloud certs hold the key to success? Is it better to obtain certification from a cloud service provider or a company like CompTIA? We look at which option gives you the most bang for your training buck.
4

Quiz

-
Test your virtualization certification know-how
Training and certification requirements are constantly changing in virtualization and cloud computing. Take the quiz to see if you've kept up.
Take the quiz