Evaluate
Weigh the pros and cons of technologies, products and projects you are considering.
Sorting through enterprise IT's PaaS options
Need help determining whether PaaS is for you or which provider to choose? This Essential Guide will walk you through the process.
Introduction
Cloud pundits and users seem to tout infrastructure as a service and software as a service, but where does platform as a service fit in? Many companies have moved their development efforts to the cloud through PaaS to take advantage of its flexibility, but it hasn't gained the widespread adoption numbers other cloud services have.
Meanwhile, the PaaS market has become crowded, with such major players as Microsoft's Windows Azure fighting to the top. As open source PaaS, such as Cloud Foundry, gains popularity and companies make acquisitions, however, the choice of which vendor to choose isn't so simple.
Private PaaS continues to gain steam as enterprises worry about data security -- but is it enough to boost widespread adoption? Or should we be looking down a different cloud platform path entirely? This guide has everything you need to know about PaaS, and whether it's right for you.
1

Why PaaS?

-
Choosing platform as a service in the enterprise
To know if platform as a service is the right cloud option for your enterprise, you first have to know what you hope PaaS will achieve. Understand where PaaS fits among IaaS and SaaS and why some companies are choosing to move development efforts to the cloud. Our expert advice and opinions can help enterprises determine why platform as a service might be the most effective option.
2

PaaS players

-
Who's who in the PaaS cloud provider market?
In the ever-evolving cloud computing market, it can be difficult to clearly distinguish the platform as a service players. Microsoft's Windows Azure may be the biggest name in PaaS right now, but some experts say that may not last. With open source PaaS and recent acquisitions, the market is heating up and other vendors are making their moves. These expert tips, advice and industry news can help you understand which PaaS cloud vendor may be the best fit for you.

Download this free guide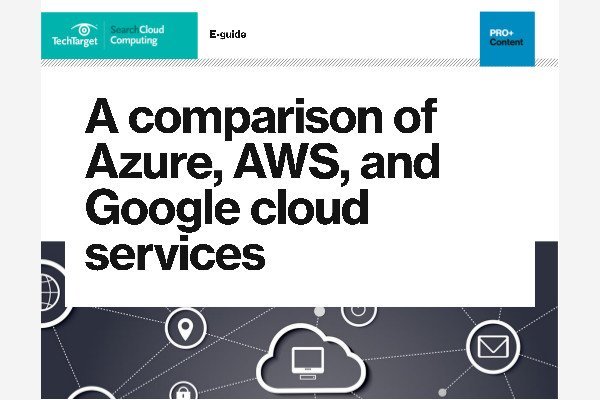 Download: Compare the cloud services of Azure, AWS, and Google
These three vendors offer services ranging from big data in the cloud to serverless computing and more. Read on for a vendor-neutral comparison by our experts.
By submitting your personal information, you agree that TechTarget and its partners may contact you regarding relevant content, products and special offers.
You also agree that your personal information may be transferred and processed in the United States, and that you have read and agree to the Terms of Use and the Privacy Policy.
3

The PaaS cloud future

-
Troubles in the PaaS cloud market -- and where it's going
While SaaS and IaaS investments are on the rise, PaaS tends to lag behind. As enterprises worry about cloud security and governance concerns, PaaS providers are stepping up to quell those fears. Can options like private PaaS help boost adoption in the enterprise? Or will something else, such as IaaS vendors capitalizing on offering platform services, change the game entirely?