Share this item with your network:
Lessons fall from the cloud, changing data center strategies

markrubens - Fotolia
A cloud-first policy is not the answer for all enterprise apps
To reap the benefits, a cloud migration requires a well-thought-out IT strategy. But some enterprises continue to make the move too soon -- and then pay a price.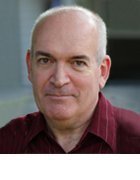 By
Cloud first is the new orthodoxy, and with good reason. Companies large and small are moving assets off site and into the cloud, driven by financial incentives and often enticed by the chance to access leading-edge technology without having to staff up or make large hardware investments.
Still, not every cloud has a silver lining. Anecdotal evidence crops up now and again that shows some organizations just aren't finding cloud nirvana. Some, indeed, say they have brought resources back into traditional data centers or have built a private cloud environment.
For some, cloud computing has not worked -- or not worked well. The reasons, experts say, are usually both narrow and specific, involving situations that couldn't easily fit a public cloud model. Their message: If you understand where you are going, your requirements and the capabilities of the cloud, your cloud deployment will probably succeed.
Marc Clark, director of cloud strategy and deployment at Teradata Corp., a data warehouse and service provider, based in Dayton, Ohio, said he has grown accustomed to hearing cloud laments, but it's usually because people wandered into a cloud-first policy without adequate preparation.
"I can't tell you the number of times I hear the phrase, 'Because we have a cloud mandate,' when people are asked why they are moving to the cloud," he said.
Surprisingly, many people aren't able to explain why they have a cloud-first policy, Clark said. But most, undeterred by the fact that they don't actually have a clearly understood reason for moving to the cloud, march on anyway.
"Even worse than moving somewhat blindly to the cloud, I often hear of companies having a single public cloud provider strategy," Clark said. The attraction to standardizing on a single provider is an effort to reduce financial and procurement complexity. The problem, he argued, is that public clouds were not built to handle every situation and application equally.
For example, some business applications are especially compute-hungry and can stress an infrastructure. "I have seen many examples of such workloads that simply don't fit into the cloud," he said.
In one instance, a major U.S.-based manufacturer that had been using an on-premises enterprise data warehouse for years was faced with a new cloud mandate to move to a specific public cloud provider. Since the company had moved web applications and email onto the public cloud, the manufacturer thought that the process of migrating the data warehouse would be no different. After several weeks of testing, it became obvious that the public cloud just wasn't going to give the company's users the performance and reliability that they were used to, he said.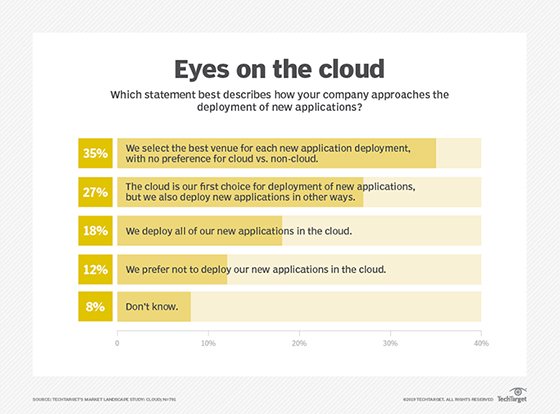 In fact, according to a 2017 cloud preparedness report from Forrester Research, technology factors, such as an organization's experience with virtualization and DevOps, seem to correlate with success in adopting a cloud-first policy. Also critical, according to the report, is conducting an application portfolio assessment. This helps organizations clarify which applications are most appropriate for cloud and also helps highlight "the critical role of microservices and containers in modern service delivery," the authors wrote.
Samir Shah, chief of staff at Baselayer Technology, a modular data center and management software provider, based in Chandler, Ariz., said he has seen other examples of poor or inadequate planning on the path to a cloud-first policy.
"The trend across the enterprise landscape is for CIOs to outline a strategy to move or migrate to the cloud," Shah said. When it's time to act, however, the unanticipated challenges and complexities come into focus. "We've seen public cloud migrations where expenses escalate upward post-launch based on unanticipated utilization."
"There are potential reasons for disappointment with a cloud move, and the primary one is cost," Gartner analyst Arun Chandrasekaran said.
A few years ago, I would have said cloud is not mature enough. But now, cloud platforms like [Microsoft] Azure or [Amazon Web Services] are very sophisticated.

Rohit Lonkardirector of industry relations and Azure solutions, Saviant Consulting
Usually the problem is that planners fail to correctly estimate their needs. But, Chandrasekaran said, sometimes it is a matter of not having the right procedures and governance in place, as when unnecessary instances are created and never shut down.
Some businesses simply look at spending and scale and decide they can bring the processing back on premises.
"That's what Dropbox decided to do last year," Chandrasekaran said. The cloud-based file storage provider chose to build a private cloud rather than staying with Amazon Web Services. The move by Dropbox and some others to shift to private cloud was not based on price alone, Chandrasekaran said. Sometimes there's the desire to control and enhance features.
"In the public cloud, you get what others get; you will not get a specialized infrastructure," he said. In certain situations, having an infrastructure tailored to your applications and uses provides a competitive advantage, he explained. And a private cloud can sometimes better address security, privacy or compliance requirements, especially regarding geographic location of data.
Still, with the right processes and tools, a business can reduce its public cloud spending.
And despite those occasional concerns about cost or performance, cloud adoption continues to gain momentum. Some businesses, though, choose to put only some of their resources in the cloud, presumably requiring either continued investment in on-premises systems or in a private cloud environment.
The path to cloud nirvana
"A few years ago, I would have said cloud is not mature enough. But now, cloud platforms like [Microsoft] Azure or [Amazon Web Services] are very sophisticated," said Rohit Lonkar, director of industry relations and Azure solutions at Saviant Consulting, based in Mumbai, India. In general, when you need high-powered infrastructure or need to respond to demand peaks, cloud offers a much better option than on-premises resources, he said.
"Most cloud platforms come with access to analytics," Lonkar said. With those capabilities, a business can properly monitor and manage its activities.
The only real exceptions, in his view, are when a company feels strongly that it needs to completely control its data, as with a financial institution, perhaps. Then, on-premises computing may be a better option.
Not every company's data infrastructure needs are the same, Shah noted, so there is no one-size-fits-all answer in the cloud. To avoid some of the potential pitfalls that occur when implementing a cloud-based IT strategy, Shah recommended applying a dual approach.
"IT executives should evaluate a private cloud on premises or in a shared facility," he said. In many cases, this could be deployed using modular data center technology on the edge or securing space in a colocation facility. Executives could also consider a hybrid cloud strategy, which would include public or private cloud assets in conjunction with a brick-and-mortar data center.
"One of our partners, a top five financial investment bank, elected to add data capacity via a colocation facility to host a private cloud in order to manage their data-security needs," Shah said. "But they still utilize the public cloud for data that does not maintain the same security requirements.
"The key is to develop a cloud-based strategy that allows for proactive decision-making instead of reactive decision-making," Shah said. "Keep in mind that the software supporting a company's data infrastructure is critical to ensuring this proactive mindset."
Dig Deeper on Cloud application migration