Adrian Cockcroft: 2011 top cloud computing leader
Thanks to his efforts in moving Netflix's instant watch service to the cloud, the company's cloud architect comes in at number one on our list of the top cloud computing leaders of 2011.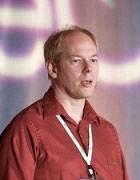 Cockcroft managed the team that moved Netflix's instant play streaming video service onto Amazon's cloud. After this successful roll out, he took on a broader role as cloud architect for Netflix.
Netflix was up and running the whole time during the recent Amazon Web Services Elastic Block Storage outage. While Amazon took days to explain the issue to users, Cockcroft filled in the radio silence by blogging about it, helping others learn how to avoid falling off the cliff when AWS goes down. Cockcroft and Netflix are one of a small vanguard of large, viable enterprises, not in the technology business, that have successfully "done" cloud.
Previously at No. 1: Werner Vogels, CTO of Amazon
See this year's number ten for more.
This Content Component encountered an error