 BACKGROUND IMAGE: iSTOCK/GETTY IMAGES
Evaluate
Weigh the pros and cons of technologies, products and projects you are considering.
Agility, software-defined data center shape PayPal cloud
PayPal is no stranger to innovation. Moving toward a software-defined data center is one way Saran Mandair ensures the company meets customer demands.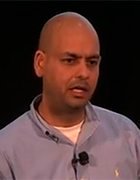 With 132 million active registered accounts, supporting payments in 25 currencies, availability, agility and security are beyond critical to PayPal's infrastructure. And as the company -- whose revenues account for 42% of eBay's bottom line in the second quarter of 2013 -- continues to grow, innovative approaches to cloud computing help it scale as needed and remain ahead of competition.
SearchCloudComputing recently spoke with Saran Mandair, senior director of platform engineering and operations for PayPal, about the company's internal cloud computing strategy and why it chose to run OpenStack.
What is PayPal's cloud strategy in the next six months to one year?
Saran Mandair: Our goal is to enable agility at scale; that's our higher-level business objective. That means we need to bring everything that we actually do manually today into an 'as a Service.' That is, we're going to have a software-defined API, and it's all going to be wrapped under an umbrella called software-defined data center over the next two to three years.
What benefits do you see with the software-defined data center for PayPal's business units and customers?
Mandair: I think agility is one key. But it's also being able to ensure that we can do agility at scale without compromising our availability or our trust to customers. We handle people's money, so we need to ensure agility without compromising availability or trust, [which] are some of those value-adds we can't compromise on. That's where we concentrate [on] offering capabilities as a service to this platform.
What about OpenStack and your private cloud? Where does that stand in your cloud roadmap?
Mandair: I think we were probably one of the early adopters in the OpenStack space. We are moving fairly rapidly and have OpenStack deployed in production and are constantly iterating and enhancing it. Our goal is to move fairly rapidly from our OpenStack/private cloud perspective to accelerate agility and availability.
What were the roadblocks of moving OpenStack into full production?
Mandair: Let me start first with why we chose OpenStack. I think the reason why was based on its open standards and the ecosystem momentum it actually had. We saw value in it because we felt the APIs and the abstraction it provided us were fairly powerful. Aside from giving us those abstraction layers, we also saw pretty good momentum from industry leaders -- for example, IBM, Red Hat, HP. All the major vendors were actively participating. So we felt like the ecosystem was actually fairly valuable to us.

But we did run into some challenges. When we want to run OpenStack in production, it has to be highly available. And we felt like, under the hood, there were certain components that were not as highly available as we would like. When we're putting things in production, we want to ensure they are production/enterprise grade.
We actually had some of the OpenStack controller nodes where we did not feel they were as highly available as we wanted. There was also some other integration that it was missing at that time. Load Balancer as a Service and DNS as a Service weren't actually there when we looked at it, so we created our own Load Balancer as a Service and DNS as a Service because we wanted the layer to orchestrate all of these things.
We have our engineering teams share our blueprints and put them in the past OpenStack Summit. Our goal is to share what we have done so people can actually critique it. And that's the beauty of an open source project: People can see your code, they can repeat it, and they can adopt it and modify it if they see value. That's why we're really appreciative because we feel like the majority of the brains are outside PayPal; this global ecosystem has helped us.
Aside from OpenStack, what other players should enterprises pay attention to?
Mandair: I think this ecosystem and the new partners -- how rapidly they're coming on and the innovation they're generating -- are interesting. We definitely looked at Amazon; there's good stuff being done by Rackspace. And then we also see what some of the other big enterprises are doing, such as Cern. And we have Nebula [One] in the Valley here. We are trying to look at the different components.
I think Cloudscaling is another one. We're keeping an eye on everyone to see what specific value propositions they're bringing so we can potentially pick it and add it to our platform and provide value-add to our platform -- whether it's agility, availability, completely hands-off automation, systems intelligence -- we're keeping an eye on a lot of different companies.
About the author:
Michelle Boisvert is executive site editor for SearchCloudComputing, SearchWindowsServer and SearchDataCenter. Contact her at mboisvert@techtarget.com.