Allan Leinwand: 2011 top cloud computing leader
Thanks to Zynga's success launching social games on Amazon's EC2 service, Allan Leinwand's company has become a reputable cloud model to copy.
3. Allan Leinwand, Zynga's CTO of infrastructure engineering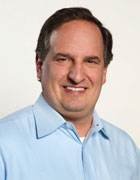 Leinwand is responsible for all aspects of technology infrastructure used in the delivery of Zynga's social games, including data centers, networking, compute, storage, content distribution and cloud computing. Zynga launches all its new games on Amazon EC2, but if a game takes off, it brings it in-house onto its own infrastructure private cloud, dubbed Z Cloud. This has to scale fast in the same way that EC2 scales, which means using standard hardware and a mix of open source virtualization and automation software, which Leinwand's team has customized to suit its needs. For anyone looking to build a data center from scratch that can scale to support millions of users overnight, Leinwand and Zynga are a great model.
Previously at No. 3, Thorsten von Eicken, CTO and co-founder of RightScale
Von Eicken is still doing awesome things over there, but all the IT big guns that have since entered the cloud market dwarf RightScale. The big question is how long can this little company hold out before its swallowed up by CA or some other monster, and Thorsten with it?