tashatuvango - Fotolia
Brush up your cloud automation and orchestration skills
Admins use cloud automation and orchestration to reduce manual tasks and errors. Use these five tips to explore options for tools, implementation strategies and more.
Cloud computing has many moving parts, but admins don't necessarily have to manage them all manually.
Automation and orchestration processes save IT teams from repetitive tasks, including those related to integration and provisioning. Together, cloud automation and orchestration provide more consistent and predicable workflows, something that's especially important in hybrid environments. Major providers, such as Microsoft and Google, as well as third-party vendors, such as Chef and Puppet, provide tools to drive these processes.
Learn more about how cloud automation and orchestration can improve your management processes with these five tips.
Break down the difference between cloud automation and orchestration
Cloud automation and orchestration are not the same thing, but they do go hand in hand to optimize IT processes.
Automation refers to processes and tools that admins can use to manage tasks, such as provisioning and data backup, with minimal manual effort. Then, orchestration steps in to coordinate and organize those automated tasks. While two separate technologies, they're closely related. It's not practical, for instance, to create a cloud orchestration process that calls no automated tasks.
Together, automation and orchestration make cloud more valuable to the enterprise. Organizations should weigh their options carefully for tools from either their cloud provider or a third party.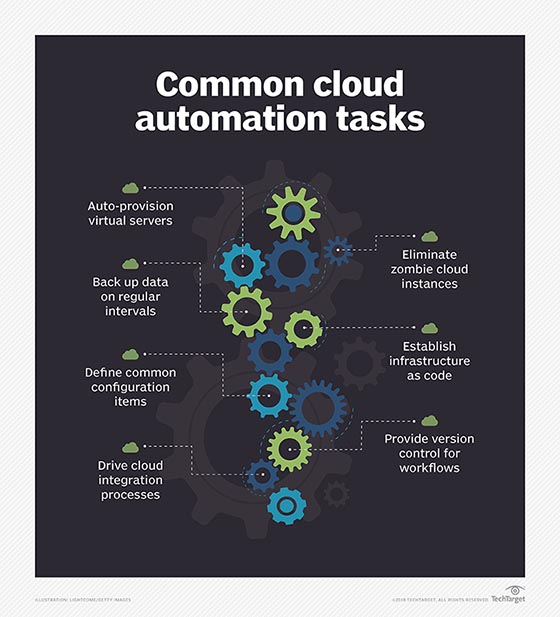 Cloud orchestration tools become a must-have for hybrid IT
Cloud automation and orchestration have become critical capabilities, especially for hybrid environments. With orchestration tools, administrators can manage resources that move between on premises and cloud. However, a legacy IT orchestration tool does not always translate well into hybrid cloud because of the need for well-defined APIs.
Instead, a cloud automation and orchestration tool from a third party or your cloud provider might be a better fit. Some of these options include Amazon Web Services (AWS) CloudFormation and VMware vRealize Orchestrator, which are platform-specific tools, as well as RightScale and Scalr, which work across multiple platforms. Some enterprises require more than one orchestration tool to manage traditional systems, but this can add complexity, as these tools don't work together seamlessly.
When you start to review orchestration tools, look for Topology and Orchestration Specification for Cloud Applications (TOSCA) standards. TOSCA attempts to standardize how workloads and resources are defined, which enables admins to manage cloud apps and services in a common way. While TOSCA is not universally supported yet, it cloud be a smart investment for the future.
Chef and Puppet lead the charge in open source cloud automation
Chef and Puppet are both open source automation tools that use scripts to automate deployments for on premises and cloud. There are, however, some differences between them.
Chef is more developer-focused and is considered imperative because it gives detailed steps to deploy and connect cloud apps. With Chef, IT teams use cookbooks and recipes to drive automation.
On the other hand, Puppet is more operations-orientated and is considered a declarative tool because it describes what the end state of the deployment should be.
The declarative approach has been more popular, resulting in more declarative tools entering the marketplace, such as CFEngine and Juju. But since some teams still choose the imperative path for cloud automation and orchestration, tools such as Ansible and SaltStack support both methods.
Explore Microsoft Azure automation options and tools
Top cloud providers, such as Microsoft, offer native cloud automation and orchestration tools. The Azure Automation service offers two techniques: Azure runbooks and Azure Desired State Configuration (DSC).
Runbooks are based on PowerShell workflows, which means they can manage any Azure service with an API. Cloud admins can either create a workflow from scratch or customize existing ones from the Runbook Gallery. They can also use runbooks to manage on-premises resources with a feature called Hybrid Runbook Worker.
With Azure DSC, admins only define the desired configuration of a node, but not the steps necessary to get there. This model requires a pull server that can pass configuration information to a Local Configuration Manager to ensure that target nodes reach the desired state.
Azure Automation isn't the only option for admins, as they can complete similar tasks with a command-line interface or PowerShell. Multicloud enterprises should also evaluate third-party configuration management software to automate processes across public clouds.
Streamline cloud operations with Google automation tools
Like its competitors, Google continues to add new cloud automation and orchestration services to reduce manual tasks. Some new features include managed instance groups to centralize control over a group of workloads and image management resources to create an automated image build pipeline. Other tools, such as Google Cloud Resource Manager and Google Container Engine, also have elements to automate management and deployment.
Google Cloud Deployment Manager, similar to AWS CloudFormation, is an infrastructure automation tool built on the concept of Infrastructure as Code, in which an admin can programmatically manage a virtual infrastructure. With this tool, admins use templates to manage cloud resources consistently.
Admins can also manage and automate Google Cloud Platform with third-party automation tools, such as Ansible, Chef, Puppet and Salt.