Christian Reilly: 2011 top cloud computing leader
The manager of global systems engineering at Bechtel, Christian Reilly is a prolific blogger on cloud and a top cloud computing leader.
4. Christian Reilly, Manager of Global Systems Engineering, Bechtel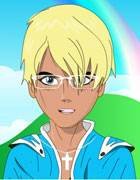 Represented here by his eerily accurate Twitter avatar, Reilly is responsible for enterprise engineering of data center, virtualization and cloud at Bechtel, as well as management of the sourcing management group responsible for global IT procurement and contracts. Someone who's "been doing cloud before cloud was cloud," Reilly was instrumental in building an IT services organization that is one of very few examples of a private cloud.
A prolific blogger, Reilly is a passionate buy side advocate for enterprise-level support from cloud services and technology vendors. If you can't find him on a given day, it's because he's off needling Amazon or barnstorming some giant's campus looking for smart people to help him with cloud.
Previously at No. 4, Lew Moorman, president of cloud and chief strategy officer at Rackspace
Moorman is still doing good things driving business at RAX. He's certainly a mover and shaker in the market, but Rackspace is just another cloud service provider these days. And following the Savvis and Terremark acquisitions, RAX is increasingly looking like small fry in a market dominated by giants.
This Content Component encountered an error