Cost savings, efficiencies lead IT pros to cloud computing
Public and private cloud use has gained steam in the enterprise, shows survey data, despite IT pros' nagging concerns.
Few technologies have affected the IT industry as profoundly as cloud computing, which delivers computing as a service or utility. Part of cloud's appeal is clearly financial; it allows organizations to shed at least some of their expensive IT infrastructure and shift computing costs to more manageable operational expenses.
The cloud also eases much of the technological burden involved with IT systems support and maintenance, helping companies focus on the productive business use of their workloads rather than on underlying systems and software. Regardless of the motivation, business owners and data center managers are increasingly turning to cloud for vital computing services.
This report examines key findings of a recent TechTarget survey about cloud adoption and services.
Cloud interest up, despite hesitation amid midsize companies
In the third quarter of 2012, approximately 1,500 IT professionals responded to a TechTarget survey examining the use of cloud computing and cloud services in the enterprise. And the numbers suggest a growing exploration and adoption of cloud technologies.
Approximately 61% of respondents reported they use some form of cloud services, while 39% said they do not use cloud services within the enterprise. The proliferation of cloud offerings -- SaaS, Iaas, PaaS -- that give IT professionals an array of options could be behind an increased interest.
So, who's using cloud? Small and large companies are implementing cloud services more readily than midsize companies (Slide 1), primarily due to differing business needs.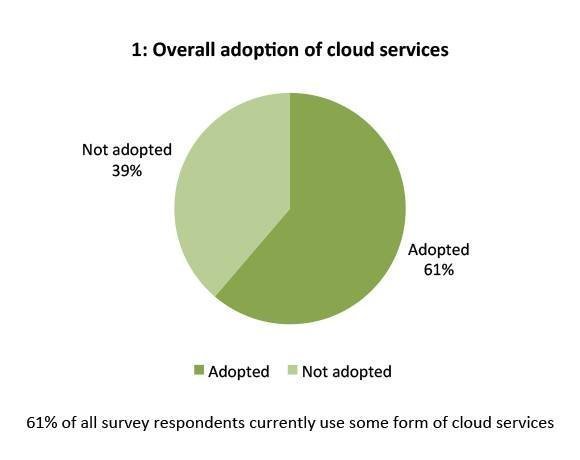 Small companies, for example, typically have more modest, in-house IT resources, which make it easier for them to look to less traditional IT methods such as cloud computing. Larger companies primarily approach cloud services as a cost-saving strategy for offloading non-mission-critical workloads or those exempt from compliance requirements. By comparison, midsize companies tend to be victims of inertia -- significant investments in internal IT resources and procedures make it difficult to justify the technical modifications and financial demands of a move to cloud.
Consumers split among cloud computing models
Cloud computing can be divided into three general models: public cloud, private cloud and hybrid cloud. Public cloud consists of independent, third-party service providers that rent or lease cloud computing resources to external clients, such as businesses or government agencies. A private cloud represents the deployment of on-premises cloud services, generally building upon an existing virtual data center infrastructure with self-service portals, chargeback or showback models and additional services, such as automated provisioning or resource scalability. A hybrid cloud connects both public and private cloud services, allowing a business to use both environments simultaneously while shifting workloads between private and public cloud facilities on demand.
The use of each cloud model among respondents is fairly evenly split, with 40% using public cloud, 30% using private cloud and another 30% of respondents reporting the use of hybrid cloud services. And all three cloud models will see increased use over the next six months, as survey results show in Slides 2a and 2b. In Slide 2, for example, 90 respondents using public cloud currently have 25% to 50% of their data center infrastructure in the cloud.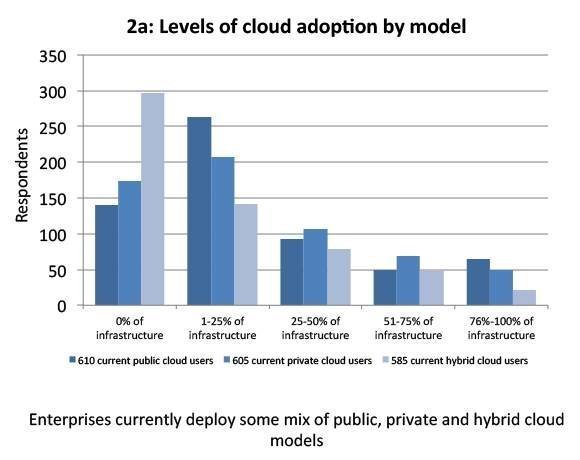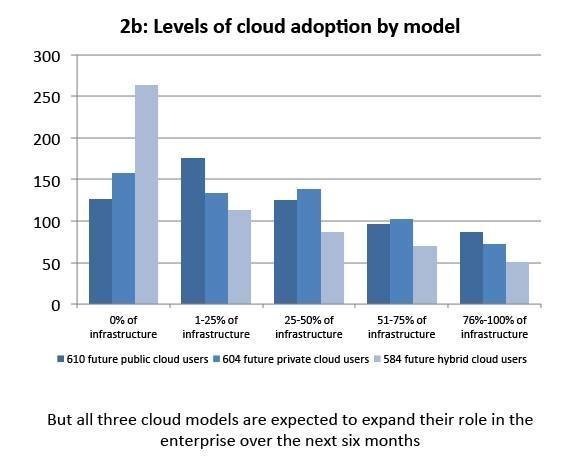 Public cloud computing. Of survey respondents using public cloud, 73% point to cost savings as the primary motivating factor. Approximately 65% note public cloud computing fits the business' computing needs.
While there are numerous benefits to public cloud, 60% of respondents using this cloud model cite improved availability for computing workloads as the biggest benefit. About 57% list workload scalability, which allows users to adjust IT resources to accommodate changes in computing demands, as the main perk for public cloud.
But public cloud isn't always the answer. In addition to real and perceived benefits, public cloud also presents challenges. Fifty-five percent of respondents say application suitability can be a problem, forcing administrators to rewrite or convert a workload codebase for the specific cloud provider to which the enterprise subscribes. In addition, 29% note that a lack of interoperability or integration between cloud-based and local workloads can present problems. Public cloud provider support also ranks as a concern for 35% of respondents.
Private cloud computing. Money is the root of all decisions. So it may not be surprising that the principal driver for moving to private cloud was identical to that listed for moving to public cloud -- cost savings.
Sixty-seven percent of survey respondents using private cloud do so to save money. Approximately 57% choose private cloud because it automates IT tasks, and 53% say a private cloud model meets their business' computing needs.
Of respondents that implemented a private cloud, 59% note a more efficient use of IT resources, while 53% benefit from workload scalability. However, 62% of respondents using private cloud note that some applications can be problematic when they're run in the cloud. Forty percent of respondents also note support is a challenge.
Hybrid cloud computing. Of respondents using hybrid cloud, 63% expect cost savings to be the biggest advantage; 56% expect the hybrid cloud model will best fit the business' computing needs.
With a hybrid cloud in place, 59% of users report more efficient use of IT resources, while 58% cite the benefit of workload scalability. As with private cloud computing, the emphasis is on maximizing business agility and ensuring that computing resources are efficiently allocated and optimized.
Hybrid cloud users also echo the concerns of private cloud users, with 61% of respondents suggesting problems with application suitability and 39% noting a lack of interoperability or integration between private and public clouds. These concerns may pose serious issues when moving workloads among cloud providers or using local applications and data with cloud-based workloads.
As cloud services infiltrate the modern enterprise, it's important to keep all three principal cloud models in the proper perspective. Public, private and hybrid cloud computing all have a unique role in enterprise IT. However, they aren't mutually exclusive, allowing IT planners and administrators to realize the benefits of each model to fit the overall needs of the business. And, certain functions such as storage, collaboration tools and application development are taking the lead as primary benefactors of cloud computing.
Stephen J. Bigelow, senior technology editor in the Data Center and Virtualization Media Group at TechTarget Inc., has more than 20 years of technical writing experience in the PC/technology industry. He holds a bachelor of science in electrical engineering, along with CompTIA A+, Network+, Security+ and Server+ certifications and has written hundreds of articles and more than 15 feature books on computer troubleshooting, including Bigelow's PC Hardware Desk Reference and Bigelow's PC Hardware Annoyances.