Dr. Werner Vogels: 2011 top cloud computing leader
The former number one on our list, Werner Vogels plummets to number 10 amid talk that his hubris may have a negative impact on the culture at cloud leader Amazon.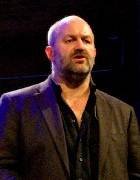 Still a force to be reckoned with in cloud computing circles, Dr. Vogels is the only mover and shaker from our previous list to make it onto this one. But we're starting to wonder if some of his hubris (perhaps warranted, given Amazon's leading position in the market?) isn't starting to have a negative impact on the culture at Amazon Web Services. Senior engineers and evangelists are leaving the organization, fed up with the PR handcuffs, and really, who wants to carry around a beeper 24/7? That's for doctors, not engineers, thank you very much.
And Werner, what's with all the tweeting about that online business card company? Come on now, nothing else going on? Maybe a family member started it?
Previously at No. 10, security specialist Chris Hoff
Hoff, who spent 2010 pointing out how he'd already blogged about everything that was happening in cloud two years ago, seemed to be stuck in the mud at Cisco. Hoff just moved on; bored already, Beaker?
Dig Deeper on Azure, Google and other public cloud providers