Editor's choice for innovation: Jitterbit Harmony Live
Jitterbit's recently released Harmony Live cloud platform streamlines API creation and automation. Learn why it is the editor's choice for innovation.
Jitterbit's Harmony Live cloud platform for designing and deploying APIs without software programming achieved the Editors' Choice for Innovation for September 2015.
The editors at SearchCloudApplications regularly recognize cloud applications, platforms and services for their innovation and market impact.
Product Name: Harmony Live
Vendor: Jitterbit
Release Date: July 15, 2015
What it does
With the Harmony Live cloud platform, users can give any application or device its own real-time API and connect, orchestrate and manage that API without writing code, according Ilya Pupko, director of technology development for 11-year-old Jitterbit, which is based in Alameda, Calif.
At the core of Harmony Live is its user interface (UI) -- a dashboard that contains API components, which developers and non-developers can choose, and then drag and drop into a build.
The key features in the Harmony Live UI focus on API management, API security and API analytics. "API management [components] allow one to expose and manage any operation, and as an API workflow," Pupko said.
API security features handle various levels of security across all of the APIs. Meanwhile, "API analytics allow one to debug any API on the fly, as well as gather various statistics and drill down on any metric, such as uptime, performance, usage, etc.," he said.
A Harmony Live API, also known as a Live Anywhere API, features pre-built connectors that link APIs to widely used apps from Salesforce, Oracle, Microsoft and other vendors. These systems can then be securely exposed as a service connected to a specific business process that ties together employees, partners and customers.
As we continue the big push into an API economy -- from mobile to mainframe, from on-premises to cloud -- there is a need for this type of service.

R Wangprincipal analyst, founder and chairman of Constellation Research
"As we continue the big push into an API economy -- from mobile to mainframe, from on-premises to cloud -- there is a need for this type of service," said R "Ray" Wang, principal analyst, founder and chairman of Constellation Research Inc.
Users must have some knowledge of software and API uses, as well as be able to assess their enterprise or project components. "Harmony Live is designed with an analyst in mind," said Pupko. "You do not have to be a developer anymore to create in minutes and manage your own high performance and secure APIs."
Naturally, more complex or custom projects -- such as those requiring SQL queries -- may require development or other specialist expertise, said Andrew Leigh, Jitterbit's vice president of alliances and marketing.
Why it's cool
Jitterbit Harmony Live streamlines API creation and fulfills businesses' current need for speed and automation in application development, integration and connectivity. Being able to build situation-specific APIs simplifies integration, a big pain point for organizations and their enterprise architects.
Simplifying API creation gives organizations more integration options. "Integration is hard," Wang said. "Most folks try hand coding, but over time, this is messy and hard to maintain. It's also the type of work that should be accessed in the cloud."
What a user says
"What we like about what Harmony Live is the promise of more real-time, faster data connectivity -- the ability to create data transparency between systems," said Luke Stevens, CTO of Berklee Online at Berklee College of Music in Boston.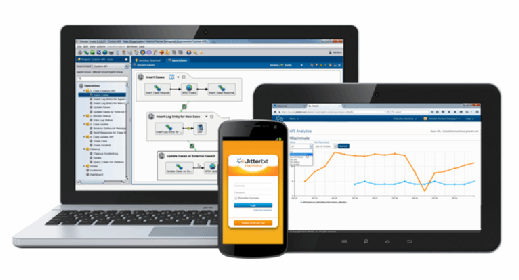 With Harmony Live, Stevens and his team can access data immediately. "So, when an advisor is helping support a student, the data they see in front of themselves is the actual data that's in the learning management system," he said.
Stevens first deployed Jitterbit's Harmony cloud platform to stop "building everything from scratch." An early project consolidated the many hubs and spokes of Berklee Online's departmental services and databases. "Getting all of our systems going through the same hub has saved us a ton of effort in maintaining lots of different code bases," said Stevens.
A current Harmony and Harmony Live project is connecting the college's Salesforce and Ellucian Colleague ERP systems, as well as other databases. The goal of this ongoing project is to manage student data, without replicating it across multiple systems.
"With Jitterbit, online services have become an integrator and not just a builder of all these different third-party systems," Stevens said.
Pricing
The price of Jitterbit Harmony Live varies according to environments, which can include on-premises per-user cost, monthly per-user software as a service licensing costs and so on. Generally, pricing starts at $3,500 a month in a classic subscription pricing model.