Eli Lilly-Amazon scuffle: Top 10 cloud stories of 2010
The exclusive breaking news that Eli Lilly was ending negotations to expand its Amazon Web Services usage was one of the 10 biggest cloud computing stories of 2010.
3. Eli Lilly-Amazon Web Services relationship derailed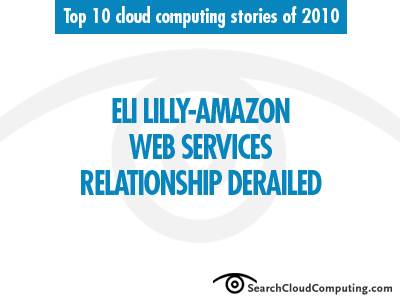 In a year awash with cloud computing news, one of the more interesting squabbles of 2010 was the derailed relationship between Eli Lilly and Amazon Web Services.
Executive Editor Jo Maitland first reported in July that the pharmaceutical giant, over liability concerns, was preparing to end negotiations with Amazon's cloud services arm. Dr. Werner Vogels, Amazon's CTO, discredited the report on Twitter, but several days later it emerged that Eli Lilly had, in fact, cut off talks to expand its cloud footprint with Amazon.
What was almost lost in all the back and forth, however, was the larger issue of how much liability cloud providers should assume when their services fail. And as usage of cloud services expands in 2011, this is a concern we expect to hear voiced again and again.