Helder Almeida - Fotolia
Five podcasts to catch up on the latest trends in cloud computing
Whether it's vendor partnerships or new services for IoT, the cloud market evolves quickly. Here's a roundup of five podcasts to bring you up to speed on the latest cloud trends.
Cloud is a dynamic technology, and enterprises need to be flexible to keep up.
But before they successfully adopt the latest trends in cloud computing -- ranging from containers to continuous monitoring -- enterprises first face a number of challenges. David Linthicum, a TechTarget contributor and SVP of Cloud Technology Partners, a cloud consultancy company in Boston, explores top cloud trends, their effect on enterprise IT teams and more in these five podcasts with cloud experts. Read on and tune in to know what to expect.
Make cloud applications portable to avoid lock-in woes
With the proliferation of cloud services, enterprises want to take advantage of new offerings and better prices at any time. Unfortunately, the more dependent an enterprise becomes on a particular cloud provider and its native services, the harder it is to move applications.
Lock-in risks are high in cloud -- not just with vendors but also with models. With a private cloud, enterprises can be locked into their own design, and in public cloud, they can become dependent on add-on services. Any type of lock-in will result in high prices, according to Marten Mickos, CEO at HackerOne, a provider of vulnerability tracking software.
Many believe one of the latest trends in cloud computing -- containers -- could reduce these lock-in risks through the promise of portability. Containers continue to rise in popularity because they can make it easier to move applications from one cloud platform to another. But there's a catch: Many of the cloud providers' container management services, such as Azure Container Service, Google Container Engine and Amazon Elastic Compute Cloud Container Service, pose lock-in risks of their own.
"Docker and container management and orchestration solutions have made portability vastly easier, but as soon as you start availing yourself to the special services of whatever platform you're on, you're hooked," Linthicum says.
Containers enable developers to build apps that can move across cloud environments, but they're not always enough to eliminate lock-in risks.
Public vs. private cloud debate rages on
As public cloud adoption continues to rise, some enterprises question whether private cloud is dead. Others, however, believe that private cloud is alive and well, as certain compliance, cost and security requirements still fuel deployments.
Compliance is tricky, and certain requirements and standards restrict some enterprises to a private cloud. Others are reluctant to migrate to public cloud because of potentially higher costs and previous investments in an on-premises data center. In addition, there can be high costs associated with training and hiring staff to maintain a public cloud deployment.
"There is no magic button on the side of the server that you press that makes it suddenly cloud-capable. … It's going to require software infrastructure, hardware infrastructure … [and] operational skills," says Bernard Golden, CEO of Navica, a cloud consulting firm.
Before you make your final decision about migration -- either public or private -- review what applications you currently run and what you want to run in the future. If compliance is still an issue, consider hybrid or multicloud models.
As public cloud adoption rises, many IT pros wonder if the private cloud is doomed. But some experts think on-premises clouds still have their place -- even if it's in a hybrid cloud.
Avoid new cloud security threats with continuous monitoring and testing
Hacking is a growing threat and large businesses, such as Target and Home Depot, have been victims of malicious attacks. It is time for enterprises to go on the offensive and adopt ongoing monitoring and testing practices to ensure their data is secure.
"Hacking is a business now," says Zohar Alon, CEO and co-founder of Dome9 Security Ltd., a provider of cloud management as a service. "When the other side can benefit from it financially, [and] quite easily now with bitcoin, it's not surprising to see those [hacking businesses] emerge [and see] ransomware all over the place."
In addition, one of the latest trends in cloud computing is serverless architectures, which bring new security risks. Because of a serverless application's design, enterprises can't secure it with the same encryption or identity access management practices they are used to. To reduce risk, they should also ensures serverless functions don't have more permissions than they need, Alon says.
These days, hackers hide behind every corner and wait for an open door. Employ continuous security monitoring and testing for all cloud models, including serverless computing.
Outages show importance of a cloud backup and recovery strategy
Once an enterprise runs applications in the cloud, they generally want those apps to keep running -- which is where backup and recovery come in. But some of the latest trends in cloud computing, such as the internet of things, increase the amount of data floating around. This has some IT teams rethinking their backup and recovery strategies to maintain availability in case of an outage.
For example, some enterprises have replaced strongly consistent databases, such as MySQL, with eventually consistent databases, such as Apache Cassandra, says Tarun Thakur, co-founder and CEO at Datos IO, a data protection software provider. These databases are more distributed in nature and can offer more scale.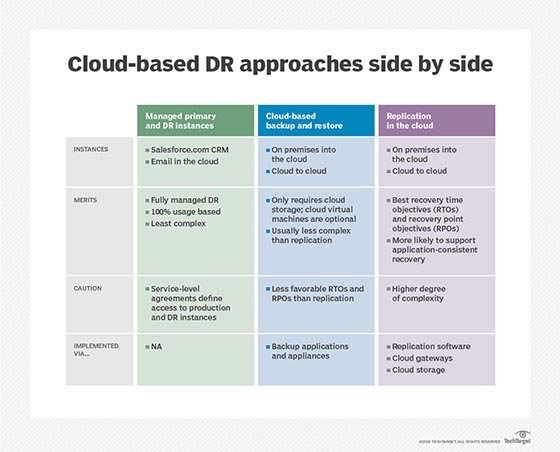 Airlines such as Delta, JetBlue and United, experienced data center outages that affected operations. It is important to have a backup and recovery plan in place to prevent major disruptions as one system fails over to another. IT teams should learn from these high-profile outages -- namely, that, even as they adopt cloud and other new services, they shouldn't "compromise what is needed to keep ... applications and business running all the time," Thakur says.
As IoT and big data systems proliferate, IT teams need to store and protect more data in the cloud. To meet those needs and avoid data loss rethink cloud backup and recovery.
Cloud partnerships and acquisitions shake up market
Some of the latest trends in cloud computing -- such as hybrid and multicloud models -- have forced vendors to reevaluate their services and ask whether they meet enterprise needs. In many cases, the easiest way for them to fill out their portfolios is to partner with or acquire other companies.
A notable example of this is Amazon Web Services (AWS) and VMware, whose partnership enables VMware's software-defined data center software to run on AWS. Enterprises benefit from these deals because of simplified integration, but often in these situations, one vendor makes out better than the other.
"AWS gets to sit back and watch the meter go higher and lock in to more VMware install base and, perhaps, put in an advantage over what Microsoft can offer," says Dana Gardner, president and principal analyst at Interarbor Solutions.
In 2013, IBM acquired SoftLayer to strengthen its cloud platform. To differentiate itself from the top public cloud providers, IBM continues to focus its efforts on hybrid cloud, as well as machine learning, artificial intelligence and other higher-level services. With more cloud models and technologies, Linthicum and Gardner agree that we will continue to see more partnerships and acquisitions in the future.
With rising competition between cloud vendors, more will pursue partnerships or acquire other companies to boost their own offerings. AWS and VMware provide one recent example.
These five podcasts are part of The Doppler Podcast series from Cloud Technology Partners.
Dig Deeper on Public cloud and other cloud deployment models