Mathias Rosenthal - Fotolia
Evaluate
Weigh the pros and cons of technologies, products and projects you are considering.
Five questions to consider before deploying OpenStack
OpenStack has attracted some big-name companies with its 'Lego' approach to cloud, but questions remain about integration, deployment and security for the open source platform.
OpenStack, an open source cloud platform with a modular architecture, has been deployed at companies including Disney, Walmart and PayPal. But while an OpenStack cloud grants users more flexibility and helps minimize vendor lock-in risks, implementation can be a challenge.
Before deploying OpenStack, organizations must identify the services they need, prevent security threats, address integration challenges and more. Here are some answers to common OpenStack questions that can help your enterprise get started.
How do I pick the right OpenStack service for cloud?
It can be hard to determine which OpenStack service meets your cloud needs, due to the large amount of tools and features available. Project Navigator, a new OpenStack tool, helps do the leg work for you by evaluating which OpenStack services can help support your cloud requirements. The tool also includes a dashboard that shows the maturity of different OpenStack projects or modules, including Nova for compute and Neutron for networking. In addition, it breaks out OpenStack services into two groups: core and optional.
Unfortunately, the tool is geared more toward private cloud, not hybrid. Hybrid cloud is more difficult to build with OpenStack services because it requires a network that can travel between public and private cloud.
What are my options for an OpenStack distribution?
When deploying OpenStack, you can select a prepackaged distribution or build it from scratch. Some enterprises choose the prepackaged route because it is generally easier to deploy -- but choosing which distribution can be tough.
Do your homework and evaluate the technical capabilities of different OpenStack distributions, such as API availability, as well vendor support. When selecting a distribution, enterprises can choose whether to use pure software players, such as Red Hat and VMware, or hardware and systems vendors, such as Hewlett Packard Enterprise, Dell and IBM. With either decision, ensure you have in-house staff with OpenStack integration skills.
Should I use OpenStack or VMware for private cloud?
One of the biggest hurdles to overcome is OpenStack's open source model. It is modular with many features and aspects that are made by the open source community, including vendors.
When it comes to private cloud implementation, OpenStack and VMware are both popular choices. OpenStack has its roots in cloud, so it is hard to compare it to VMware technology, which began as a virtualization suite for the data center. While OpenStack is backed by big industry names, VMware has some catching up to do in cloud.
On the other hand, VMware is more mature with better quality standards, and deploying OpenStack introduces a steep enterprise learning curve. Still, OpenStack's features continue to grow and new modules are constantly added. From a cost perspective, OpenStack could introduce higher support costs, while VMware includes licensing fees.
What are OpenStack's security challenges?
Security is always on enterprises' minds, and OpenStack security is no exception. The cloud is a sea of information that can be vulnerable to attacks if not properly secured. However, forming an OpenStack security plan is difficult since the technology is still so young and a work in progress.
One of the biggest hurdles to overcome is OpenStack's open source model. It is modular with many features and aspects that are made by the open source community, including vendors. With so many moving parts, keeping operations secure and compliant is a full-time job. When deploying OpenStack, best practices for security include using a protocol management tool, encrypting data and shortening certificate lifespans.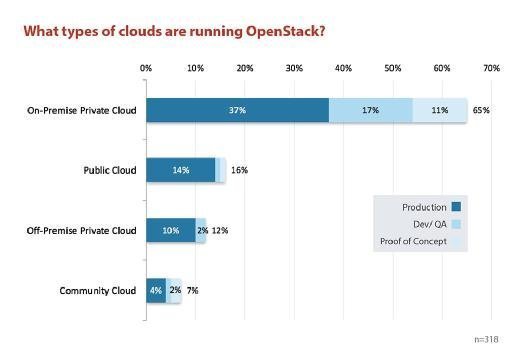 What are the integration challenges when deploying OpenStack for hybrid cloud?
Hybrid cloud may not be the new kid on the block, but it is popular. Some enterprises approach hybrid cloud by pairing an OpenStack private cloud with Amazon Web Services, Azure or Google public cloud. The main drawback is that OpenStack is still a work in progress, so the necessary tools and interfaces for hybrid cloud aren't as complete as they could be.
There are still challenges with OpenStack hybrid cloud, especially when dealing with integration between OpenStack and the major cloud providers. For example, it can be difficult to interface OpenStack's Nova compute module with AWS because of API differences. In addition, to maintain performance in an AWS and OpenStack hybrid cloud -- especially when organizations have low wide area network speeds -- a high degree of data duplication is required.