Jimmy Lin: 2011 top cloud computing leader
You may not think a professor at the University of Maryland could be a top cloud leader, but Jimmy Lin is unchallenged at determining how cloud will work with the world's data.
9. Jimmy Lin, Professor, College of Information Studies, University of Maryland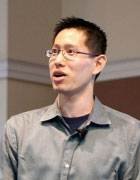 Lin is the biggest smarty pants on this list. He got his Ph.D. in electrical engineering and computer science from MIT in 2004 then went to teach at the University of Maryland. An expert in natural language processing and information retrieval with a recent emphasis on scalable algorithm design and large-data issues, Lin is one of the people engaged in plumbing out how "the cloud" is going to work with all of the world's data.
Currently, he's on sabbatical, coding at Twitter! He also does work for Cloudera, which aims to bring Hadoop MapReduce to the enterprise. Twelve-hour days are a slack day for this guy, the coolest prof on the block!
Previously at No. 9, Jim Reavis, executive director of the Cloud Security Alliance
Besides taking money from vendors eager to play in the cloud market and aggregating some best practices information already out there on the Web, what has this organization actually done to make the cloud more secure?
Dig Deeper on Cloud development and testing