Jonathan Bryce: 2011 top cloud computing leader
Rackspace's OpenStack project has a good deal of momentum in the cloud market right now, and so does its chairman, Mosso founder and top cloud leader Jonathan Bryce.
8. Jonathan Bryce, OpenStack Project Chairman, Founder, Rackspace Cloud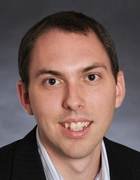 Founder of Mosso -- which Rackspace acquired a few years ago and turned into the foundation of its cloud service -- Bryce was early in the cloud infrastructure game and helped RAX become No. 2 in the market behind Amazon. He's now chairman of the OpenStack project, shepherded by Rackspace, which deserves some notice, even if all it does is draw off the open source software nerds like flies to a honey pot and let everyone else get on with life. It's yet another software stack for building private and public clouds, but has significant momentum right now. If it sticks, so will Bryce.
Previously at No. 8, Joe Weinman, head of communications, media and entertainment industry solutions at HP
Weinman made our previous list while at AT&T, where he did some interesting analysis on cloud cost models. He's still writing thoughtful papers but why he moved to HP, we'll never know. Joe, that ship has sailed!