alphaspirit - Fotolia
Manage Azure resources with these top tips of 2017
Looking to brush up on your Azure management skills? Check out these top tips from SearchCloudComputing in 2017 to more effectively manage VMs, APIs and more.
As Azure adoption continues to climb, cloud admins seek new, more streamlined ways to manage their workloads on Microsoft's public cloud.
From subscriptions and security to storage and backups, there are a lot of moving parts to manage in Azure. Check out these top tips from SearchCloudComputing in 2017 to more efficiently manage your Azure resources.
Master Azure subscriptions with these key concepts and terms
Azure subscriptions can be tough to navigate, but one way to cut through the complexity is to learn the basic terms and concepts. To start, note that an Azure subscription structure consists of four main levels:
Enrollment: Admins use this foundational level to control billing and allocate Azure costs.
Departments: This level is optional but enables admins to more granularly divide Azure resource privileges, usage and billing across business units.
Accounts: This level gives admins tighter control over all Azure resources and services and also provides more usage controls for reporting and management.
Subscriptions: This level controls Azure service availability to individual users, as well as enforces deployment limits.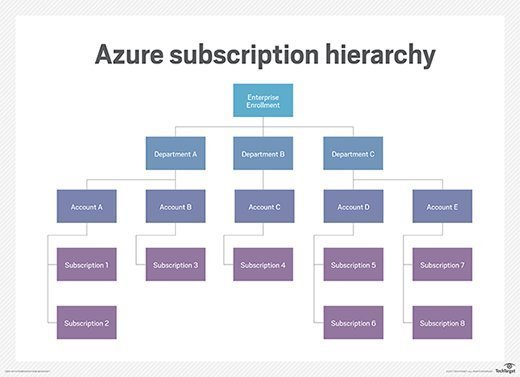 For enterprises that want further granularity, add resource tags and groups. Resource tags enable cloud admins to add metadata to Azure resources so they can group those resources more easily for reports and billing. These tags can include billing location code, department unit and application, as well as project name. Resource groups bundle together resources or services. Users can initiate an action to the group and have it automatically apply to all the resources in it. However, these groups can sometimes backfire; use resource locks to prevent unwanted changes to specific applications or services.
Get started with the Azure API Management service
Azure API Management is a service that enables enterprises to create, manage, monitor and secure APIs.
The three primary components of the service are:
Developer portal: Provides developers with access to documentation, API keys, an API catalog and usage analytics.
API gateway: Routes API calls to back-end services, verifies API keys and other credentials, and logs API calls and metadata.
Publisher portal: Lets admins define or import API schemas, manage Azure users, set up policies and access analytics.
Admins can access the API Management service through Azure Resource Manager. They can then deploy an instance, define and add API operations, or import an API from another application. Users can implement role-based access controls to define API usage policies. The service has five roles: contributor, reader and operator, as well as editor and manager, which will be released in the future.
Using Azure Site Recovery for data and VM replication
The public cloud is a popular option for data backup and disaster recovery (DR), and Azure offers services to ease the process. Azure Site Recovery is a recovery and backup service that automatically replicates on-premises VMs to the public cloud. It also includes additional features that monitor health and protect data.
Before you use the service, determine how much cloud storage, storage throughput and network bandwidth your systems require. Azure offers a Capacity Planner tool to help you estimate the storage needs of each VM and to help ensure you have enough network capacity for your deployments.
Through Azure Site Recovery's interface, enterprises can build recovery plans that detail whether groups of machines should fail over together and what your system dependencies are. Admins can choose between three types of failover -- test, planned and unplanned – and should run tests on their DR plan.
Scale resources automatically with Azure Virtual Machine Scale Sets
Automation is a timesaver for cloud admins and reduces repetitive tasks, such as resource scaling. Azure Virtual Machine Scale Sets is a service that performs autoscaling for identical groups of VMs -- called scale sets -- and does not require IT staff to preprovision VMs.
Autoscaling is based on metrics, and enterprises have two options to create scaling rules. The first is to scale based on metric data from Azure Monitor, while the second is based on the values from guest OS metrics -- which is the better option if you want to scale based on memory usage. Whatever option you choose, remember to create scale-out and scale-in rules to prevent paying for unused resources.
Between scaling, there is a cooldown period that is generally between one minute and one week. Enterprises need to properly set their cooldown period, or Azure resources could scale again unnecessarily. Prevent unexpected scaling behavior with tests, and make sure your cooldown periods work well with your usage patterns.
Use Azure Managed Disks to simplify cloud storage management
Storage remains one of the top uses for cloud, but management can get tricky. Azure Managed Disks is a service that aims to simplify disk management and adds an abstraction layer that eliminates the need for admins to manage Azure storage accounts for virtual hard disks.
There are other benefits to the service as well. For example, unmanaged disks have the potential for a single point of failure, but Azure Managed Disks removes this risk, because they ensure VMs use virtual disks that are placed on separate storage units.
Azure Manage Disks also simplify the image capture process. Cloud admins can use an interface in the Azure portal to capture images instead of a command-line interface. In addition, users can take independent snapshots of Azure Managed Disks to enable point-in-time recovery for cloud DR.
Dig Deeper on Managing cloud infrastructure