Mark O'Neill: 2011 top cloud computing leader
The United Kingdom's government may find itself in the cloud sooner than later, thanks to IT team leader and top cloud whiz Mark O'Neill.
6. Mark O'Neill, leader of the UK government's IT "skunkworks" team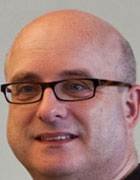 For anyone working in a heavily bureaucratic organization, O'Neill is a great example of how to get a cloud computing project going without being chased out of the building. He runs a small in-house team that is tasked with developing low-cost IT applications, agile development and cloud-based procurement within the UK government. He has even managed to get the Communications-Electronics Security Group to buy into his team's work with an emphasis on "protecting what matters," a forward-looking approach to security that's anathema to most security organizations today.
Previously at No. 6, Dave Girouard, president of enterprise at Google
In the year or so since our last list, Google has more black eyes than success stories in enterprise market, leaving us no option but to give Girouard the boot.