Microsoft adds to Azure: Top 10 cloud stories of 2010
Microsoft's announcement that Azure would now support Remote Desktop and virtual machines was one of the 10 biggest cloud computing stories of 2010.
5. Microsoft to add Remote Desktop and VM support to Azure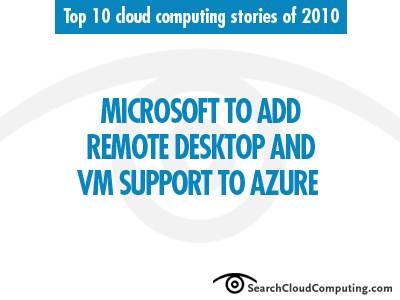 After launching as a development Platform as a Service (PaaS) offering, Microsoft Azure underwent a few modifications early in 2010. More specifically, Microsoft added Remote Desktop and virtual machine support to the platform, bringing it a little closer to serving as Infrastructure as a Service (IaaS).
The move started a push from the original concept for Azure, which was created as a programming platform. After the success of Amazon Web Services, however, it would have been foolish to ignore the obvious potential in cloud infrastructure. But emulating a service is one thing; it'll be interesting to see how much of Amazon's success Microsoft can reproduce.
Dig Deeper on PaaS and other cloud development platforms